| | |
| --- | --- |
| Convective Outlook: Fri 16 Aug 2019 | |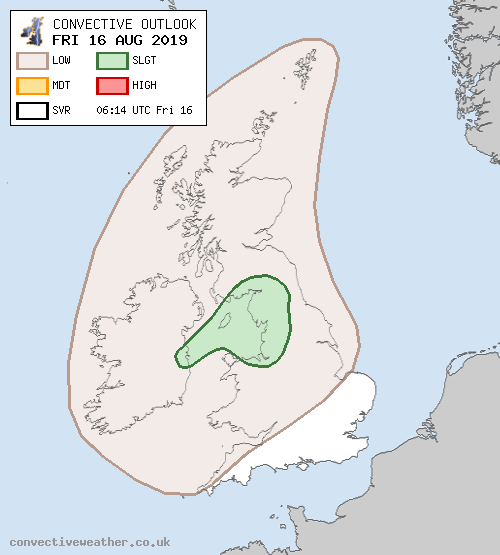 Convective Outlook
VALID 06:00 UTC Fri 16 Aug 2019 - 05:59 UTC Sat 17 Aug 2019
ISSUED 06:14 UTC Fri 16 Aug 2019
br> br>
ISSUED BY: Dan
An Atlantic frontal system will slide progressively eastwards across the British Isles, bringing an extensive area of frontal rain. Strong shear may encourage some embedded elements of line convection in places, but weak instability, saturated profiles and shallow convective depth suggests little to no lightning is expected.
Behind the main frontal band, residual low-level moisture will linger until the surface cold front moves through, with surface dewpoints of 15-17C likely over SE Ireland and the Celtic Sea overlain by a marked mid/upper-level dry intrusion. A subtle shortwave and vorticity maximum aloft may cause the front to buckle over SE Ireland during the late afternoon, with a wave possibly developing on the cold front thermal boundary (probably only identifiable by surface observations due to the lack of any noteworthy frontal rain expected). This, combined with some lift from the Wicklow mountains, may encourage a few scattered showers to develop near the Dublin vicinity, before heading northeastwards across the Irish Sea during the evening hours.
With 40kts DLS and some reasonable low-level helicity, a low-topped supercell may be possible, heading towards NW England by mid-evening. Lightning activity is questionable given weak CAPE and potentially limited cloud depth, but some sporadic lightning would be possible. Confidence on this is very low given a lack of notable multi-model support (hence only treated as a low-end SLGT), however it is noted that the EURO4 has remained remarkably consistent run-on-run at simulating a supercell-like shower taking a trajectory from birth over E Ireland towards Cumbria - not to be taken literally of course, and the track is different with each run, but given its good handling in a similar setup on 14th June, it is something to consider. Some sporadic lightning may also develop elsewhere over NW / N England during the evening hours along the northern periphery of the main frontal rain, perhaps also affecting N Wales initially.
Elsewhere, scattered showers will affect Ireland and Scotland periodically once the early frontal rain has cleared, although marginal instability and fairly widespread coverage of showers makes it hard to be more specific as to where a few isolated lightning strikes may occur. Once focus may be eastern Scotland for a short window early evening.