| | |
| --- | --- |
| Convective Outlook: Sat 17 Aug 2019 | |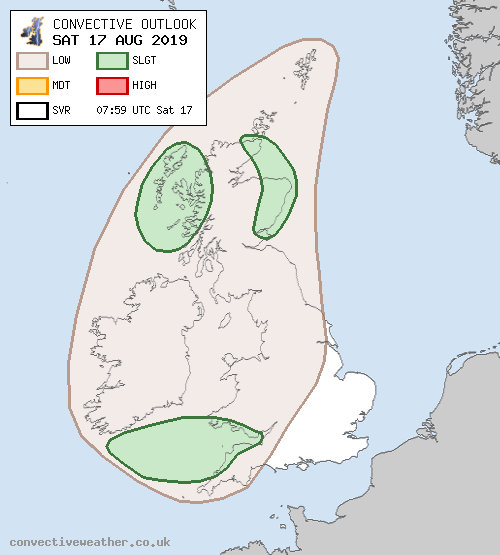 Convective Outlook
VALID 06:00 UTC Sat 17 Aug 2019 - 05:59 UTC Sun 18 Aug 2019
ISSUED 07:59 UTC Sat 17 Aug 2019
br> br>
ISSUED BY: Dan
Broad upper trough covers the British Isles through Saturday, the main upper low centre remaining over the Atlantic to the west of Scotland but with a series of shortwaves rotating counter-clockwise along its southern and eastern flank. The broad cold pool will create an unstable environment with marginally-steep mid-level lapse rates and a couple hundred J/kg CAPE.
As such, scattered showers will affect many areas at various times through this forecast period, and hence difficult to pinpoint specific areas for when/where lightning may occur. In general, the best potential for lightning will be associated with the passage of these shortwaves - so the focus on Saturday lunchtime/afternoon will be northern and eastern Scotland where CAPE increases and mid-level lapse rates steepen as a shortwave moves through, and similarly the Celtic Sea towards the Bristol Channel during the early hours of Sunday.
The most intense cells may produce hail up to 1.5cm in diameter and gusty winds.