| | |
| --- | --- |
| Convective Outlook: Mon 09 Sep 2019 | |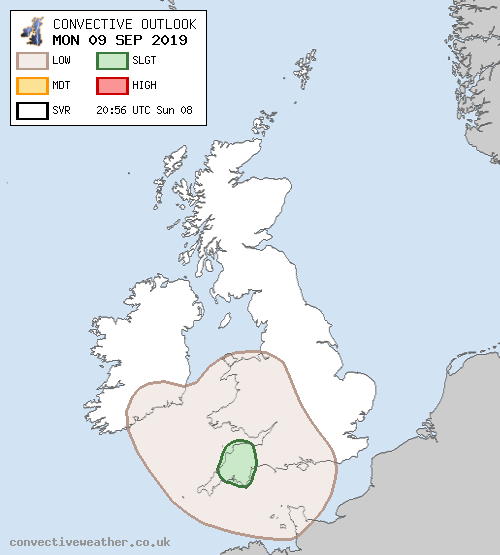 Convective Outlook
VALID 06:00 UTC Mon 09 Sep 2019 - 05:59 UTC Tue 10 Sep 2019
ISSUED 20:56 UTC Sun 08 Sep 2019
br> br>
ISSUED BY: Dan
Disrupting upper trough will form a cut-off upper low over the Celtic Sea by midday Monday, sliding across SW England towards Biscay by midnight Monday night. Consequently the north-south aligned frontal zone will tend to stall across Britain through much of the forecast period, generally weakening with time as the upper forcing runs away to the south.
The position and track of the upper low will ultimately determine the areas with greatest potential for deep convection, and hence some lightning risk. Current thinking is embedded convection may be ongoing on Monday morning on the rear side of the main frontal precipitation, primarily affecting the Celtic Sea / W Wales / SW England. This will continue to migrate eastwards, while probably decaying by late morning.
However, increasing sunshine across SW England in a rather slack environment with reasonably steep mid-level lapse rates and dry mid-levels may yield 400-600 J/kg CAPE, and encourage scattered showers and/or thunderstorms to develop, particularly during the afternoon hours aided by low-level convergence / orographic forcing. Uncertainty exists given hints of a warm nose in the mid-levels (600mb) which may restrict convective depth, and hence lightning potential - but nonetheless a low-end SLGT has been issued to better highlight the main area of interest.
Such slack conditions with moist low-level air have in the past been favourable for funnel clouds / waterspouts, and this remains a possibility over SW England on Monday. The risk of heavy showers may also extend eastwards across Dorset / Hampshire later in the day, but as instability reduces towards evening the risk of lightning here is considered lower (but not zero).