| | |
| --- | --- |
| Convective Outlook: Sun 06 Oct 2019 | |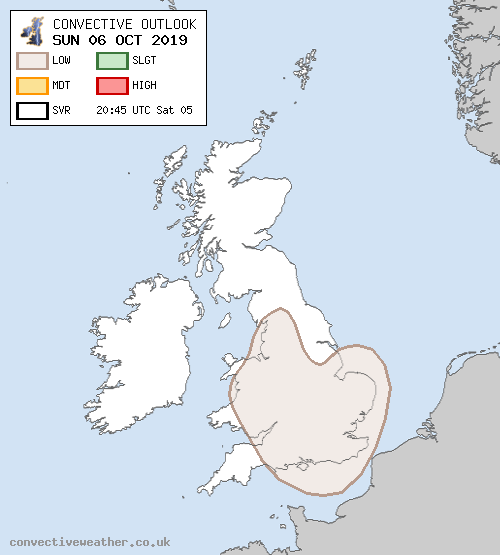 Convective Outlook
VALID 06:00 UTC Sun 06 Oct 2019 - 05:59 UTC Mon 07 Oct 2019
ISSUED 20:45 UTC Sat 05 Oct 2019
br> br>
ISSUED BY: Dan
Disrupting upper trough will result in an upper low sliding quickly southeastwards across England and Wales on Sunday, reaching the Low Countries by the end of the afternoon. On the forward side, an overlap of cooling aloft combined with upper forcing and subtle surface heating on Sunday morning may encourage a few heavy showers to develop immediately to the rear of the main frontal rain - with a primary focus over CS / SE England. Should any showers develop during the morning hours then there may be a few lightning strikes.
Elsewhere, a few showers are likely in the post-frontal environment but these will largely develop to the rear of the main upper low, resulting in a rather uninspiring environment for lightning - and so the risk is considered rather low.
Also, the surface pattern becomes rather complicated across eastern England by the afternoon, given the frontal boundary grinding to a halt as the main upper forcing runs away southeastwards - with the development of one (or more) surface lows expected, particularly over East Anglia. The net result is areas of low-level convergence within the low axes, which may encourage slow-moving very heavy showers to develop during the afternoon in particular. Exact placement of these will be difficult to pinpoint, although a blend of various NWP would suggest Norfolk and perhaps Lincolnshire at greatest risk. Near-saturated profiles and weak instability suggests the risk of lightning is rather low. However, this would bring the threat of some surface water flooding given event rainfall accumulations (including frontal rain) possibly exceeding 60mm very locally.