| | |
| --- | --- |
| Convective Outlook: Wed 09 Oct 2019 | |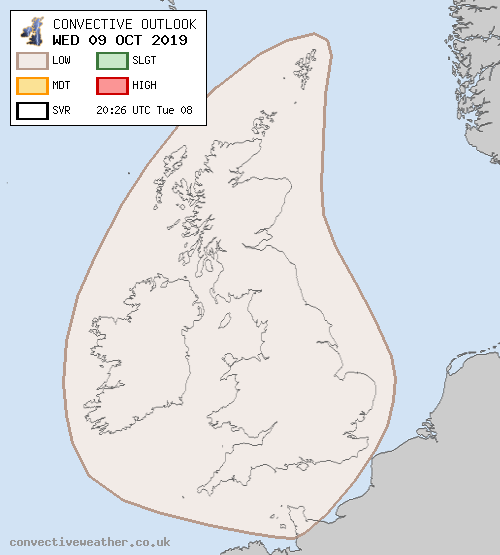 Convective Outlook
VALID 06:00 UTC Wed 09 Oct 2019 - 05:59 UTC Thu 10 Oct 2019
ISSUED 20:26 UTC Tue 08 Oct 2019
br> br>
ISSUED BY: Dan
Broad upper troughing will reside across the British Isles on Wednesday, the resultant cold pool creating an environment with steep mid-level lapse rates and a few hundred J/kg CAPE. Numerous showers are expected to develop over the warm seas (Atlantic, Celtic, Irish, English Channel) and spread eastwards inland, aided by some diurnal heating also. Meanwhile, some longer spells of rain are likely to affect the northwest of Scotland.
Similar to Tuesday, instability is a little marginal and convection a little restricted in depth for much in the way of lightning activity, hence the rather broad LOW threat level. Given weaker shear expected (away from the far southwest), no low-end SLGTs have been introduced since confidence of much in the way of lightning, and exactly where, is rather low. The main focus is probably the Bristol Channel and adjacent coasts, and also the eastern English Channel.
Heights will also rise across the Celtic Sea / southern Ireland late in the day, as the upper trough departs and upper ridging develops, tending to increasingly restrict convective depth.