| | |
| --- | --- |
| Convective Outlook: Thu 09 Jan 2020 | |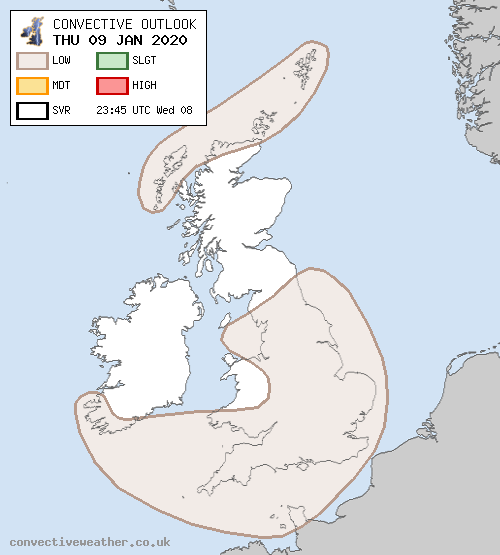 Convective Outlook
VALID 06:00 UTC Thu 09 Jan 2020 - 05:59 UTC Fri 10 Jan 2020
ISSUED 23:45 UTC Wed 08 Jan 2020
br> br>
ISSUED BY: Dan
On Thursday morning, a shortwave in the broad strong southwesterly flow aloft will be crossing northern England, accompanied by a marked mid-level dry intrusion. Instability is rather weak, but strong forcing in the area may produce some locally heavy bursts of rain and perhaps isolated lightning strikes.
Otherwise, the main interest will be associated with a pronounced (albeit slowly filling) upper trough sliding eastwards across southern Britain during the afternoon and evening hours. The cold pool aloft will steepen lapse rates and generate several hundred J/kg CAPE, generally greatest over open waters of the English Channel, but some instability will likely feed well-inland too. At the surface, the pressure pattern will slacken by the afternoon - although there is some uncertainty over the exact shape and extent of the warm sector, and therefore the location and timing of the frontal boundaries involved.
A frontal boundary will likely straddle parts of SW England / S Wales during the afternoon, drifting across the Midlands / Cen S England later and eventually East Anglia / SE England during the evening. Increasing low-level convergence along the boundary, and strong forcing aloft, is likely to result in increasing precipitation intensity and some very heavy bursts of rain could evolve. The environment will be strongly-sheared ahead of the main frontal boundary, and while mostly unidirectional the low-level winds may back ahead of the approaching surface low. As such, any convection that does develop could utilise this to exhibit low-topped supercell characteristics and perhaps produce an isolated tornado.