| | |
| --- | --- |
| Convective Outlook: Wed 12 Feb 2020 | |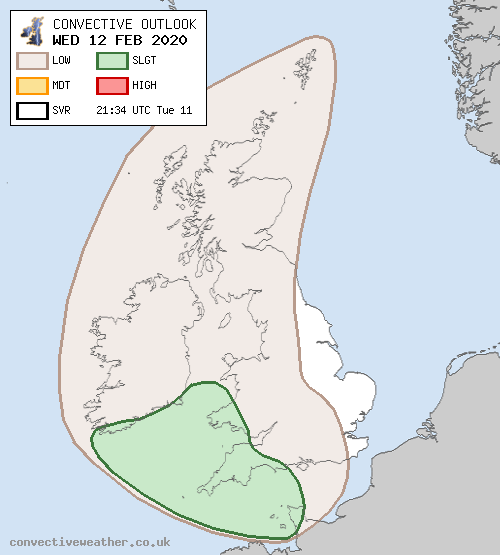 Convective Outlook
VALID 06:00 UTC Wed 12 Feb 2020 - 05:59 UTC Thu 13 Feb 2020
ISSUED 21:34 UTC Tue 11 Feb 2020
br> br>
ISSUED BY: Dan
Showers will continue to affect northern and western parts of the British Isles during Wednesday daytime, driven by strong west-northwesterly winds aloft. However, with upper ridging spreading gradually northeastwards, instability and convective depth will gradually reduce with time, and so lightning will become generally quite isolated and increasingly restricted to the Northern Isles. Nonetheless, hail is likely in many of the showers.
On Wednesday night, a vertically-stacked low will cross Ireland from the Atlantic. On the forward side, a frontal system will slide across many parts of the British Isles, with the exception of northern Scotland. A corridor of 100-300 J/kg CAPE will likely be available ahead of the cold front, in an environment with strong shear and somewhat backed low-level winds. A marked mid-level dry intrusion and strong PVA will also be present. As a result, some line convection seems possible along the cold front, capable of producing some sporadic lightning, hail and strong gusts of wind (70-80mph possible) - primarily SW England, western English Channel and Channel Islands during the early hours of Thursday. Should the line convection fracture or evolve into an LEWP, perhaps with interaction with local topography, an isolated tornado cannot be ruled out. Such line convection will probably lose intensity as it moves both inland across Cen S England, and approaches the eastern English Channel towards Thursday dawn.
Behind the cold front, beneath the main upper low / cold pool, numerous showers will develop during the early hours of Thursday in an environment with reasonably steep mid-level lapse rates and a few hundred J/kg CAPE. A few isolated lightning strikes may occur from the most intense cells, along with hail.