| | |
| --- | --- |
| Convective Outlook: Sat 15 Feb 2020 | |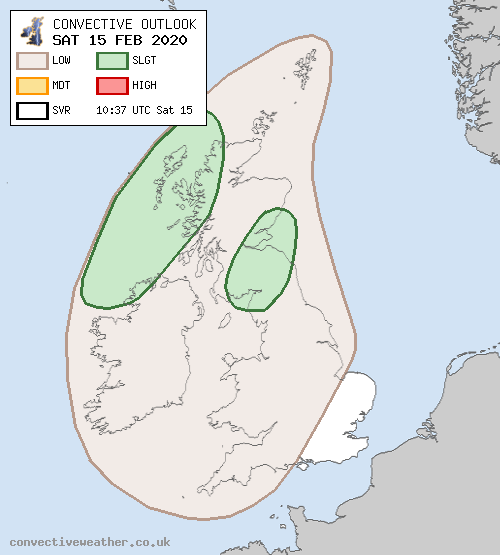 Convective Outlook
VALID 06:00 UTC Sat 15 Feb 2020 - 05:59 UTC Sun 16 Feb 2020
ISSUED 10:37 UTC Sat 15 Feb 2020
br> br>
ISSUED BY: Dan
Several areas of interest in what is a rather complicated setup through Saturday and Saturday night. Broad upper low near Iceland, but with waving frontal boundaries straddling the British Isles. The environment is strongly-sheared throughout the forecast period, and this will allow line convection to develop along the cold front - especially this evening and overnight across parts of England and Wales, but other line segments will be possible across Scotland and Ireland during Saturday. Should the line convection fracture or evolve into an LEWP, perhaps with interaction with local topography, an isolated tornado cannot be ruled out. In general, weak instability, saturated profiles and the fact that line convection will likely be embedded within a much larger precipitation shield suggests that the risk of lightning is considered pretty low. Nonetheless, some strong gusts of wind may still occur, along with torrential bursts of rain.
One particular area of interest is Cumbria into south and east Scotland late afternoon / early evening, where increased forcing aloft and some (weak) instability could aid in a few sporadic lightning strikes as a linear feature moves eastwards. A low-end SLGT has been introduced here, but with low confidence.
Elsewhere, behind the main frontal bands frequent showers will move into western Scotland, and graze the western coasts of Ireland. Sporadic lightning seems likely with some of these showers, which given the wind profile may exhibit some organisation at times, perhaps with a low-topped supercell. Hail up to pea size will be possible in many of these showers.