| | |
| --- | --- |
| Convective Outlook: Thu 21 May 2020 | |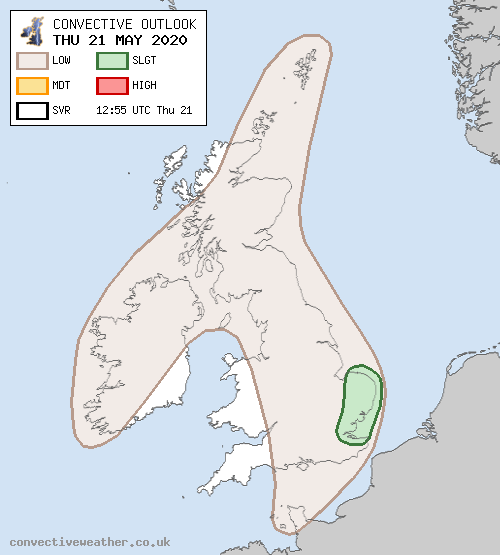 Convective Outlook
VALID 06:00 UTC Thu 21 May 2020 - 05:59 UTC Fri 22 May 2020
ISSUED 12:55 UTC Thu 21 May 2020
br> br>
ISSUED BY: Dan
Shortwave trough relaxing northeastwards through Thursday morning may interact with a Theta-W plume over SE England and more especially East Anglia where a better overlap of stronger forcing and instability will likely exist. This is likely to generate a few scattered elevated showers and thunderstorms, but most activity will clear to the North Sea by 12z.
Additional elevated convection is possible elsewhere along the same axis across northern England into E / NE Scotland through the morning and afternoon, also expanding towards the Northern Isles at times - but much weaker instability suggests the overall risk of lightning is fairly low.
By the afternoon a substantial dry intrusion in the mid-levels (and cap) is expected to overspread most of the British Isles, and while additional convection will attempt to develop along sea breeze convergence in East Anglia and SE England, it is likely to struggle to become self-sustaining, despite well-sheared profiles.
On Thursday evening and night, the Theta-W plume will begin to surge back northwards across East Anglia and SE England, as the 850mb winds strengthen once again. As a result, increasing elevated instability is possible as large-scale forcing for ascent approaches from the west. Moisture injection in the mid/upper levels may support the development of scattered elevated showers and thunderstorms over East Anglia and SE England during the early hours of Friday, above the EML. At this stage there is some uncertainty over how much destabilisation may occur, with limited model support, and whether any elevated convection will actually produce much in the way of lightning given somewhat weak instability.

Elsewhere on Thursday night, bands of showers may sweep northeastwards across Ireland towards western Scotland, behind the main frontal rain. While the depth of convection may be relatively shallow, some instability within a highly-sheared environment suggests there may be a low risk of lightning.