| | |
| --- | --- |
| Convective Outlook: Wed 17 Jun 2020 | |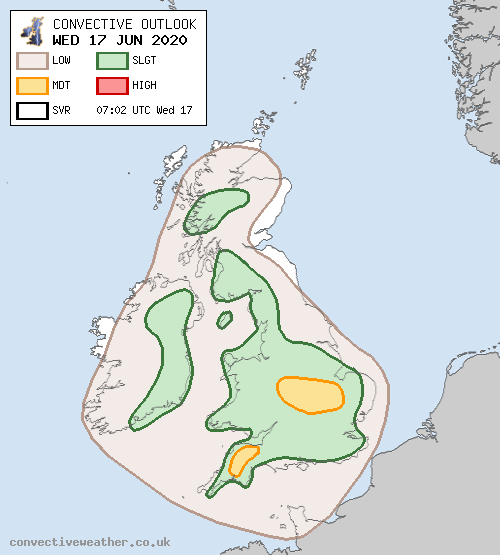 Convective Outlook
VALID 06:00 UTC Wed 17 Jun 2020 - 05:59 UTC Thu 18 Jun 2020
ISSUED 07:02 UTC Wed 17 Jun 2020
br> br>
ISSUED BY: Dan
Negatively-tilted upper trough continues to be located close to Britain and Ireland throughout Wednesday, with various lobes of PVA running northwestwards as a result. As has been the case in previous days, some pockets of elevated convection may be ongoing first thing on Wednesday morning, primarily over the Irish Sea into eastern Ireland, and perhaps also the English Channel into southern England. Low cloud may be rather extensive initially, but this will gradually thin and break with time. Diurnal heating will then yield 500-1,000 J/kg CAPE in an environment with steep mid-level lapse rates and 20-25kts bulk shear.
Scattered showers and thunderstorms will develop through the day in the vicinity of high ground or low-level convergence zones, although this will be subject to sufficient surface heating through the day (12z ARPEGE develops a notable hole in CAPE/precipitation over central southern England into the south Midlands where surface temperatures are subdued due to stubborn cloud, and overall the signal for shower activity in NW England is somewhat muted compared with previous events). The slight increase in shear compared with Tuesday, especially by the evening hours, may enable some organisation of cells. PWAT of 25-30mm and slow storm motion (generally 10-15mph) will bring the risk of localised flash flooding. Direction of motion may shift through the day as the flow aloft backs, initially to the NW (SW in Ireland) but perhaps shifting more round to due West by the evening. Interactions between updrafts and enhanced low-level vorticity along convergence zones could once again develop a few funnel clouds or weak tornadoes. Hail with diameter of 1.5-2.0cm will be possible from the most organised storms, with strong gusts of 30-40mph also possible.
Showers and thunderstorms will slowly weaken during the mid-late evening, but a reservoir of instability (200-500 J/kg CAPE) will persist overnight from Wales through the Midlands to the London area. With increasing PVA from the south, a few elevated showers or thunderstorms could still semi-randomly develop during the night in these areas, especially as convergence increases due to the development of a shallow surface low. At the same time, as the easterly flow aloft strengthens in response to the upper low over France lifting across the English Channel, so late-day thunderstorms over the Low Countries will begin to advect westwards across the North Sea towards East Anglia. It is quite likely these will weaken into a more generic area of showery rain, however upper support and some residual instability may still be sufficient for a few isolated lightning strikes embedded within the main area of rain. There will also be an increase in showery precipitation from southern Ireland across the Celtic Sea and into Cornwall that may produce a few isolated lightning strikes also. If confidence increases, we may consider extending the SLGT towards the Essex coast to cover the night-time hours.