| | |
| --- | --- |
| Convective Outlook: Thu 18 Jun 2020 | |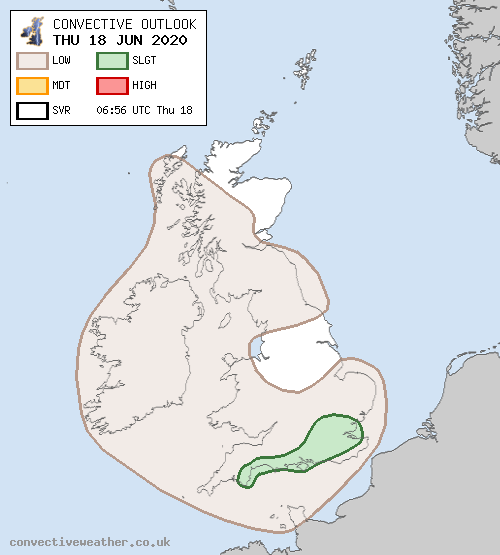 Convective Outlook
VALID 06:00 UTC Thu 18 Jun 2020 - 05:59 UTC Fri 19 Jun 2020
ISSUED 06:56 UTC Thu 18 Jun 2020
br> br>
ISSUED BY: Dan
Upper low over the English Channel will lift gradually northwards through Thursday, with a slack surface low also likely to be present across central/southern Britain. A wrap around occlusion will provide thick cloud and outbreaks of rain across much of England and Wales, gradually shifting westwards into Ireland, northern England and later southern Scotland. In doing so, increasing amounts of insolation may likely to develop across south and southeast England, the surface heating of a moist-level airmass with cool air aloft yielding 200-500 J/kg CAPE by the afternoon. Low-level convergence developing across southern coastal counties of England, will provide the primary trigger for a few scattered showers through the day, the convergence line tending to extend into East Anglia as it lifts and pivots more SW-NE with time during the afternoon and early evening hours.
There is some considerable uncertainty as to the extent of shower/lightning activity, depending on how much cloud shield (and precipitation) lingers from the morning rain. Forecast profiles also exhibit rather skinny CAPE, and this may limit both the depth of convection and the potential for lightning - and so, even if showers do develop, lightning could be rather isolated. The greatest risk of lightning is generally considered London and the Home Counties, but even here there may not be much activity. A low-end SLGT (25-30%) has been issued, but the risk of lightning is considered much lower than during previous days.
If heavy showers can develop, then slow storm motion and elements of shower-training in places could bring the risk of localised surface water flooding, although this in general looks less of a risk compared with previous days. Low-level vorticity along convergence zones may be ingested into the updraft of showers to generate a few funnel clouds or weak tornado. Showers and will fade through the evening hours as nocturnal cooling of the boundary layer commences.
Convergence-driven showers may also develop in parts of Ireland on Thursday afternoon ahead of the main area of rain arriving from the east, but forecast profiles look quite saturated with warming aloft, which will overall restrict both instability and depth of convection - and so the risk of lightning here is considered below SLGT threshold. Other pockets of embedded convection are possible in south Wales and southern England within the broad area of rain, and while the odd isolated lightning strike may be possible the risk is not considered particularly high.