| | |
| --- | --- |
| Convective Outlook: Wed 24 Jun 2020 | |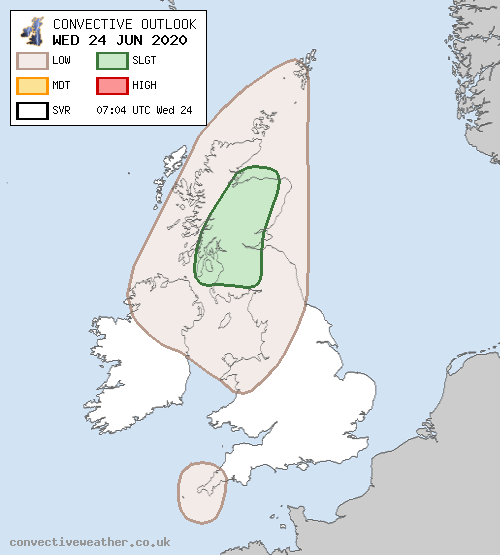 Convective Outlook
VALID 06:00 UTC Wed 24 Jun 2020 - 05:59 UTC Thu 25 Jun 2020
ISSUED 07:04 UTC Wed 24 Jun 2020
br> br>
ISSUED BY: Dan
Upper ridge extends across western Europe into southern Scandinavia on Wednesday, with a longwave upper trough to the west of Ireland. The net result is a southwesterly flow aloft above Britain and Ireland, with an increasingly hot airmass (1000-850mb thickness increasing from ~1390m on Tuesday to ~1400m by Wednesday). Diurnal heating will yield 500-1,000 J/kg CAPE by the late afternoon and into the evening, but given the deep well-mixed boundary layer, substantial cap in the 750-800mb layer and lack of any significant forcing mechanism, deep convection is unlikely. This is essentially a "loaded gun" environment. Overall, the strength of the southeasterly breeze is likely to be too strong to allow any substantial low-level convergence to develop, except for perhaps N / NW England into Wales which combined with upslope flow over the mountains may just be sufficient to break through the cap and develop an isolated shower or thunderstorm during the evening over N Wales or the northern Pennines (more likely the latter) - however, even if convection manages to initiate, it may struggle to become sustained due to the very dry profile aloft.
Nonetheless, if a thunderstorm can develop and become sustained, the magnitude of CAPE and well-sheared environment (both speed and directional) suggests it could become a supercell, capable of producing frequent lightning and large hail 2-3cm in diameter. Any storms that do develop will generally drift due N or NNE. However, given low confidence of any convection initiating we have refrained from issuing a SLGT or SVR for now - but the main area of interest is the northern Pennines into Northumberland or SE Scotland.
During the night hours, Theta-E will steadily increase in a zone from N Wales and across northern England, this then shifting northwestwards across southern and central Scotland through the early hours of Thursday. A combination of warming around ~900mb, moistening between 750-850mb and slight cooling in the 600-700mb layer will ultimately lead to increasing mid-level instability and a greater chance of scattered elevated showers and thunderstorms erupting over parts of Scotland during the early hours of Thursday morning (the later in the night, the more likely). The exact coverage and location is a little uncertain, but a low-end SLGT (25-30%) has been introduced (low-end due to low confidence on timing and location) - but the area may need adjusting depending on trends nearer the time.