| | |
| --- | --- |
| Convective Outlook: Fri 26 Jun 2020 | |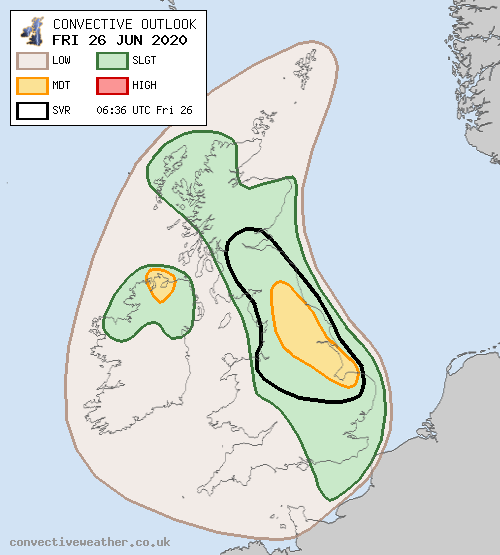 Convective Outlook
VALID 06:00 UTC Fri 26 Jun 2020 - 05:59 UTC Sat 27 Jun 2020
ISSUED 06:36 UTC Fri 26 Jun 2020
br> br>
ISSUED BY: Dan
Longwave trough will become increasingly negatively-tilted as it continues to approach Britain and Ireland on Friday from the southwest. A plume of high Theta-E will continue to nudge gradually northwards and eastwards across Britain through the day, providing the focus for several waves of potential thunderstorm activity as shortwaves lift northwards in the south/southeasterly flow aloft on the forward side of the upper trough.
At 06z Friday, scattered clusters of elevated showers/thunderstorms may be ongoing almost anywhere in a NW-SE line from the Hebrides / W Scotland through the Irish Sea into Wales / Midlands / SE England - however, there will likely be many areas not experiencing thunderstorms at this time. This line (active or inactive) will continue to lift northeastwards through the day, and so the areas at risk of semi-random outbreaks of elevated shower/thunderstorm activity will also shift northeast accordingly, broadly clearing to the North Sea by early afternoon, but pivoting such that the instability plume lingers across central and southern Scotland.
In its wake, substantial capping will likely persist across much of southern Britain, generally restricting any surface-based convection from developing - not least due to slightly reduced surface temperatures following morning mid-level cloud. Forecast profiles suggest temperatures of at least 34C would be required to break the cap in SE England, which seems unlikely. Further north, surface troughing is expected to develop, perhaps even a heat low, with low-level confluence and convergence combining with some orographic forcing to bring a greater risk of surface-based thunderstorms developing. A wind shift line, associated with the surface trough axis, may also lift northeast across England during the day, which may also provide the focus for initiation.
The area at greatest risk of surface-based development is considered far NE Wales through north Midlands into northern and eastern England. Here, the thermodynamic and kinematic environment would be supportive for organised and potentially severe thunderstorm activity, and while winds will be fairly unidirectional through the cloud-bearing layer, shear may be adequate for splitting supercells - especially during the evening hours over NW / N England. Given the magnitude of CAPE (1,000-2,000 J/kg) and very steep mid-level lapse rates, lightning could be very frequent with large to very large hail (3-5cm in diameter, and perhaps very locally larger) possible from the most organised cells. A tentative MDT has been introduced where showers/thunderstorms may be more numerous. A SVR has been introduced primarily for the threat of damaging hail. There is a level of uncertainty as to how widespread thunderstorms may become during the afternoon and evening hours, primarily due to the presence of the cap, especially towards the south. Overall the best environment - weaker cap and stronger shear overlapping with substantial CAPE - will be over northern England and perhaps into southern Scotland.
A PV filament arriving from the southwest during the evening hours may also encourage upscale growth, especially across northern and eastern England with thunderstorms potentially becoming more numerous with time (primarily elevated), these then likely to swing into eastern Scotland during the early hours of Saturday. Other elevated thunderstorms could develop along the same line farther south across East Anglia and perhaps parts of SE England, with others advecting from France also - and so an uptick in activity is possible over these areas during the late evening and night hours, but confidence is not particularly high.
Additional scattered thunderstorms are also likely across parts of Scotland and northern portions of Ireland, with marginally-severe hail (generally up to 2cm in diameter) possible and shower training bringing the risk of localised flooding. A low-end MDT has been introduced where there is reasonable multi-model agreement on the position of thunderstorms during the afternoon/evening.
Showery outbreaks of rain within the base of the upper trough will swing across southern Ireland on Friday afternoon, into Wales and SW England overnight. A few isolated lightning strikes may be possible, but the risk in any one location is considered too low to warrant a SLGT - except perhaps towards the Channel Islands late in the night.