| | |
| --- | --- |
| Convective Outlook: Sat 27 Jun 2020 | |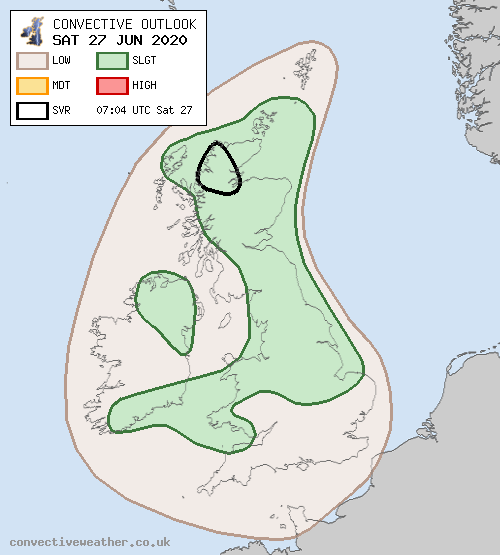 Convective Outlook
VALID 06:00 UTC Sat 27 Jun 2020 - 05:59 UTC Sun 28 Jun 2020
ISSUED 07:04 UTC Sat 27 Jun 2020
br> br>
ISSUED BY: Dan
Negatively-tilted upper trough will eventually merge with an upper low on Saturday over Britain and Ireland. On the forward side, the instability plume from the past couple of days will still linger close to NE Scotland and the Northern Isles, and may be subject to periodic episodes of elevated shower/thunderstorm activity migrating northwestwards. Most lightning will probably remain offshore, but there is a sufficient risk in Aberdeenshire, Orkney and Caithness to include a SLGT here. Shetland is a little more questionable depending on how far north the instability plume may migrate, but there may be a risk here also of some sporadic lightning.
Elsewhere, numerous clusters and bands of rain/showers will rotate anticlockwise around a surface low centred over Connacht at 06z Saturday and lifting north to be close to the Outer Hebrides by 06z Sunday. Given sufficient cloud breaks and surface heating of a moist low-level airmass beneath cool mid-levels, this should yield 300-600 J/kg CAPE. As a result, some sporadic lightning will be possible almost anywhere, but primarily within the SLGTs that have been issued.
Shear will be relatively weak across northern England, Northern Ireland and southern Scotland (generally 15-20kts) and so showers here may be rather pulse-type in nature. Within the low centre over Ulster by Saturday afternoon, the slack pressure pattern will result in slow storm motion and hence a greater risk of some localised flooding.
Stronger shear (30-40kts) is likely over the NW Highlands and this may aid some organisation of convection here as it drifts WNW-wards towards the Hebrides. Given unidirectional winds through the profile, multicell clusters seem most likely, but an isolated supercell may also possible. If this were to occur, some marginally-severe hail is possible (2-3cm in diameter), and so a SVR has been introduced to highlight this risk.
Shear will also increase significantly across Wales and central/southern England during the afternoon, although much of the stronger flow will be above the top of convection. In fact, convection across southern England by the afternoon could be rather stunted in height due to a pronounced mid-level dry intrusion. A favourable overlap between the higher CAPE environment to the north, and the stronger shear to the south - perhaps most likely the central / east Midlands into East Anglia / Lincolnshire - could result in some stronger, more organised cells. Some high-res modelling does suggest a corridor of enhanced convection may exist from Hampshire (mid-late morning) to East Anglia / Lincolnshire (midday-early afternoon) along the leading edge of the mid-level jet that will lift NE through the day, and this area may need monitoring for an isolated low-topped supercell and possible tornado risk.
Finally, additional showers and a few weak thunderstorms may evolve across southern Ireland during the afternoon, once the morning cloud/rain has lifted to the north. Here CAPE is lower than elsewhere, and shear probably relatively weak depending on the exact position of the mid-level jet, and so this area is treated as a low-end SLGT with lightning perhaps more isolated. However, cells that develop here will likely feed across the Irish Sea into Wales, and may eventually evolve into a more organised trough that swings eastwards across south Wales and SW England during the evening hours, aided by a PV strip aloft. This could perhaps also bring a relative uptick in lightning activity across S Wales and SW England (sporadically) for a time during the evening.
Showers / storms will slowly lose intensity through the late evening and night hours as both daytime heating subsides and mid-levels warm as the upper low continues to lift north through the night.