| | |
| --- | --- |
| Convective Outlook: Thu 30 Jul 2020 | |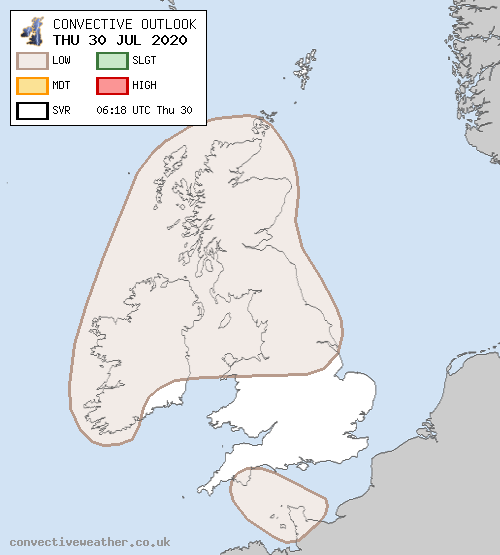 Convective Outlook
VALID 06:00 UTC Thu 30 Jul 2020 - 05:59 UTC Fri 31 Jul 2020
ISSUED 06:18 UTC Thu 30 Jul 2020
br> br>
ISSUED BY: Dan
A warm front stretching from Ireland across northern England and southern Scotland on Wednesday morning will lift gradually northwards through the day. Forecast profiles continue to suggest some pockets of mid-level instability, and so it is plausible embedded elevated convection may occur at times - but the saturated profiles, and location of the instability (around or below the freezing level) suggests the risk of lightning in any one location is quite low. In either case, some heavy convective rain may occur in places.
As the warm front lifts north, the corresponding cold front over the Atlantic will approach western Ireland during the overnight period, associated with a plume of high Theta-E being drawn northwards. As a result, there is a greater risk of some elevated convection developing within/on the leading edge of the frontal rain, and consequently a few sporadic lightning strikes may occur - especially later in the night over W / SW Ireland.
Meanwhile, an EML originating from the Spanish plateau on Wednesday evening will slowly advect northwards across western France towards the Channel Islands / western England Channel by the end of Thursday night. Very dry profiles and minimal forcing aloft suggests significant convective activity is unlikely, but the odd isolated elevated shower/thunderstorm cannot be ruled out (bases around 12,000ft).