| | |
| --- | --- |
| Convective Outlook: Fri 31 Jul 2020 | |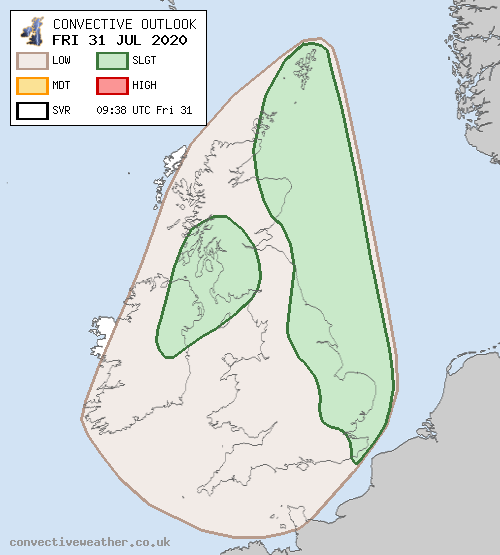 Convective Outlook
VALID 06:00 UTC Fri 31 Jul 2020 - 05:59 UTC Sat 01 Aug 2020
ISSUED 09:38 UTC Fri 31 Jul 2020
br> br>
ISSUED BY: Dan
UPDATE 09:38 UTC SLGT introduced to northern / eastern Ireland into SW Scotland (see text discussion below for more information)
Upper ridge over eastern Britain will amplify further as it drifts eastwards across the North Sea and substantial warm advection occurs. Meanwhile, a relaxing upper longwave trough will approach from the Atlantic, the net result drawing a hot, dry airmass northwards across western Europe in the broad southerly flow aloft.
Two tongues of high Theta-W will be advected northwards through Friday - one across Ireland immediately ahead of the cold front, and a second more widely across England into eastern Scotland. These two plumes will ultimately merge into one by the early hours of Saturday as they clear to the North Sea. Consequently, any minor impulses aloft could bring the risk of isolated elevated thunderstorms almost anywhere across the British Isles, hence a fairly large LOW threat level issued, but the risk in any one location is considered quite low. Areas with more interest are outlined below.
Forecast profiles suggest an uptick in embedded elevated convection is possible across central / eastern Ireland on Friday morning on the leading edge of the frontal rain associated with the cold front. This could bring the risk of some sporadic lightning, which would potentially migrate NNE-wards across Northern Ireland towards W / SW Scotland. If confidence improves, a SLGT may be introduced. The frontal rain is expected to weaken over Ireland towards midday and into the afternoon as the PVA lobe aloft overruns and moves into western Britain, ahead of the cold front.
Meanwhile, a substantial EML will spread gradually northwards from the English Channel across much of England and east Wales to reach the Scottish borders by early evening. This will serve as a cap, preventing any surface-based convection from occurring - forecast profiles suggest surface temperatures of 38C or higher would be required, and given the lack of any substantial trigger and very dry profiles, this seems rather unlikely. However, a shortwave will drift northeastwards from the English Channel 12z to East Anglia by 18z, and this will aid in cooling and some moistening of the 550-650mb layer. Consequently, an increase in elevated convective cloud (AcCas at 10-12,000ft!) is likely to spread into south and southeast England during the afternoon, perhaps as far west as east Devon / SE Wales / NW England. The subtle forcing aloft may just be sufficient for this convection to grow deep enough almost anywhere in England / SE Wales to produce a few sporadic lightning strikes - but is probably most likely towards S / SE England into the S + E Midlands / East Anglia, especially towards mid/late afternoon onwards where the subtle shortwave is slightly more pronounced. Naturally there is some considerable uncertainty as to how widespread such activity may be, and the timing of initiation (if any). Worth noting that 00z runs of most models have markedly reduced the signal for thunderstorms, with the main area where agreement is best being Yorkshire. Very dry and hot air below the cloud base will likely cause most precipitation to evaporate before reaching the ground, at least initially.
The shortwave is expected to become more pronounced with each passing hour through the evening hours as it continues to migrate NE-wards across east and southeast England, and consequently there could be an increasing risk of elevated showers and thunderstorms developing during this time over these areas. As such, a SLGT has been introduced, but this may be expanded southwestwards to include other parts of the south Midlands / SE England depending on how quickly destabilisation may occur. While precipitation at the ground may be somewhat limited, lightning activity could become quite frequent in the most intense cells. Inverted-V profiles suggest some gusty winds and heat bursts will be possible. Any elevated showers/thunderstorms will generally clear to the North Sea by 00z (while probably continuing to expand in coverage as they move offshore).
At the same time, the PVA lobe associated with the approaching Atlantic upper trough will begin to engage with the northern portions of the instability plume, by the evening hours over parts of central / southern / eastern Scotland, and this may also result in an increase in elevated shower/thunderstorm development, primarily over the northern North Sea but perhaps also into parts of NE Scotland and the Northern Isles later in the night.
The remnants of the first Theta-W tongue immediately ahead of the cold front could still produce the odd isolated lightning strike elsewhere in England and Wales as this continues to track eastwards through Friday night.