| | |
| --- | --- |
| Convective Outlook: Sat 01 Aug 2020 | |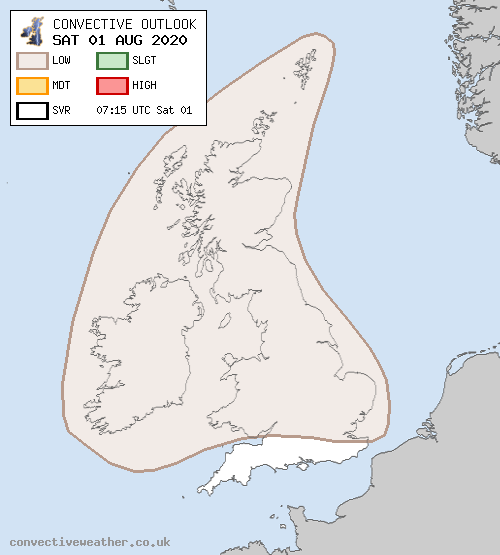 Convective Outlook
VALID 06:00 UTC Sat 01 Aug 2020 - 05:59 UTC Sun 02 Aug 2020
ISSUED 07:15 UTC Sat 01 Aug 2020
br> br>
ISSUED BY: Dan
On Saturday, the British Isles is located under the forward side of a largescale upper trough, with the axis swinging eastwards through Saturday evening and night. Heavy rain may still be affecting Shetland from the remnants of the Friday night plume event, and so there is a risk of lightning here first thing in the morning, but this will soon clear away eastwards.
Elsewhere, the boundary layer across England and Wales will still be reasonably warm/moist ahead of an occlusion (which will introduce lower-dewpoint air later in the day) such that diurnal heating will lead to scattered showers developing. Forecast profiles suggest convection generally capped below 14,000ft, so lightning is treated as a very low risk in any one location. That said, the odd isolated funnel cloud could occur.
Steeper mid-level lapse rates will spread across Ireland towards late afternoon and evening hours, as an area of showery rain advances eastwards. This could contain some heavier convective bursts of rain, with a risk of a few isolated lightning strikes in places - but probably not widespread or frequent enough to warrant a SLGT. There could be a slight uptick in sporadic lightning for a time late evening / early hours in the vicinity of the Isle of Man / north Wales / coastal NW England, and a SLGT may be considered here if confidence increases.