| | |
| --- | --- |
| Convective Outlook: Tue 11 Aug 2020 | |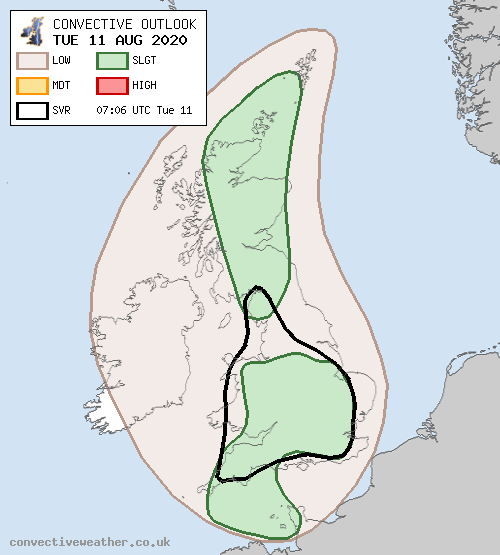 Convective Outlook
VALID 06:00 UTC Tue 11 Aug 2020 - 05:59 UTC Wed 12 Aug 2020
ISSUED 07:06 UTC Tue 11 Aug 2020
br> br>
ISSUED BY: Dan
... SUMMARY ...
A few isolated elevated thunderstorms will be possible E Scotland and E England during Tuesday daytime
Elevated showers/thunderstorms possible over SW England during Tuesday daytime
Depending on strength of the cap, isolated to scattered explosive thunderstorms will be possible in parts of England and Wales by late afternoon into the evening - many areas within the SLGT will remain void of lightning. Any storms that do develop pose a threat for large hail and flash flooding
An increase in thunderstorm coverage, primarily elevated, is expected from Cumbria northwards across a swathe of Scotland during Tuesday night
A few scattered elevated showers/weak thunderstorms will be possible over the Channel Islands / English Channel on Tuesday night
... DISCUSSION ...
Decaying MCV over Scotland on Tuesday morning has considerably worked over the environment last night. However, with a PV lobe aiding ascent, there is an ongoing risk of some sporadic lightning on its eastern flank from elevated convection through the morning as it continues to lift north and ultimately offshore. The same instability plume extend SSE-wards across eastern England, and continues to run a risk of a few isolated elevated thunderstorms developing this morning/early afternoon - some model guidance suggests this perhaps most likely from East Anglia across the East Midlands to Yorkshire. There may also be an uptick in elevated activity across central/eastern Scotland during the afternoon hours on the tail end of the morning MCV. other elevated showers/thunderstorms may also drift from the Brest peninsula towards SW England through the day.
Elsewhere, it may be rather quiet for much of the day with an EML covering much of England and Wales and acting as cap to surface-based convection. Diurnal heating will lead to 1,000-2,000 J/kg CAPE building through the day, essentially once again creating a loaded-gun environment. Surface dewpoints may mix out a little, especially towards southern and eastern England where the hottest conditions are most likely. Nonetheless, it seems likely dewpoints of 19-20C will be fairly widespread, especially late afternoon and into the evening. The slack surface pattern will lead to several convergence zones developing, and these combined with orographic forcing will be crucial in providing forced ascent given the lack of any upper support. Forecast profiles suggest air temperatures of 32-33C in SE England to 29-30C in Wales will be required to break through the capping inversion. Where this in conjunction with low-level convergence occurs, explosive deep convection could evolve by late afternoon and more especially into the evening hours almost anywhere in England, Wales and southern Scotland.
NWP guidance varies drastically as to where these convergence zones may develop, in part related to the events from Monday night, and so it is difficult to pinpoint specific areas where storms could fire. Bulk shear is a little on the weak side (15-20kts), but steep mid-level lapse rates and significant CAPE (fast upward motion) suggests that where storms do develop, the threat for large hail exists in the most organised cells (2-4cm in diameter). Inverted-V profiles suggests localised wind gusts of 40-50mph may occur, and with PWAT of 40-45mm and storm motion of ~15mph prolonged torrential downpours could lead to flash flooding. A SVR has been issued primarily for the threat of large hail and flash flooding, and to a lesser extent for damaging winds.
Most surface-based storms will probably only last a couple of hours given the strong cap in place and lack of notable forcing aloft - however, the shortwave associated with elevated thunderstorm activity over SW England today may allow thunderstorms that do erupt over Wales and the West Country to persist through the evening hours as they track northeast across the Midlands. There is better agreement on a developing shortwave running northeast from the Irish Sea into northern England and Scotland on Tuesday evening and night, and this may lead to another wave of elevated thunderstorm clusters over these areas during the overnight period, with any activity across central and southern Britain generally quite isolated through this time.