| | |
| --- | --- |
| Convective Outlook: Wed 12 Aug 2020 | |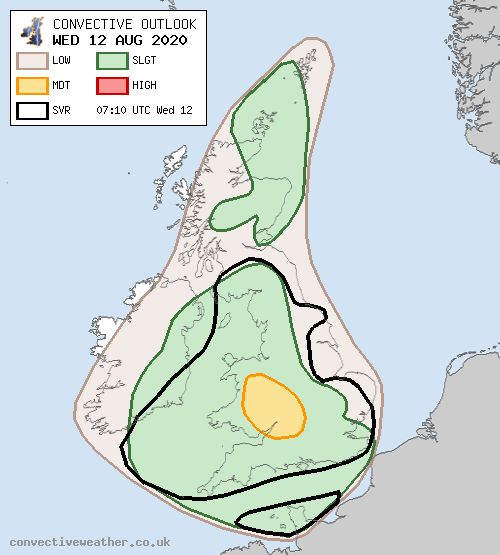 Convective Outlook
VALID 06:00 UTC Wed 12 Aug 2020 - 05:59 UTC Thu 13 Aug 2020
ISSUED 07:10 UTC Wed 12 Aug 2020
br> br>
ISSUED BY: Dan
... SUMMARY ...
Elevated thunderstorms ongoing across NE Scotland and the Northern Isles during Wednesday morning
Aside from isolated elevated thunderstorms, scattered surface-based thunderstorms will develop in parts of England, Wales and Scotland from mid-afternoon, primarily near high ground and convergence boundaries
Thunderstorms will become increasingly numerous through the evening hours, merging into a complex from the Midlands into Wales
Large hail, damaging winds and flash flooding are all possible where storms occur
Other thunderstorms over France may push into S / SE England overnight, but confidence is low
There could be a relative minima in activity across some southern coastal counties, but have retained the SLGT for the overnight risk
... DISCUSSION ...
A marked shortwave will be driving a cluster of elevated thunderstorms across NE Scotland first thing on Wednesday morning, this will continue to lift northwards across Orkney and perhaps Shetland with time. Elsewhere, a few isolated elevated showers/weak thunderstorms may be possible across parts of England and Wales, especially the Midlands / SW England, driven by weak forcing aloft and rooted above a marked elevated mixed layer (EML). This EML will act as a cap, as strong surface heating through the day builds significant CAPE in the order of 1,000-2,500 J/kg - values rarely seen in the UK. In fact
a climatology of UK CAPE
2002-2012 suggests the highest observed in this period was locally >3,000 J/kg during the heatwave of August 2003, once again noting how remarkable this current heatwave is.
Forecast soundings suggest temperatures in the low 30s Celsius will be necessary to break through the cap, and so true surface-based convection seems unlikely until early/mid afternoon at the earliest; however, a few elevated thunderstorms will be possible during the morning, which may subsequently become rooted within the boundary layer during the afternoon. Convergence zones and topography will be key for initial initiation of surface-based convection, and so high ground of SW Scotland, Cumbria, Pennines, North York Moors, Cambrian mountains and low-level convergence zones along the M4/M40 corridors for example will be the key areas. Once convection manages to break through the cap, explosive development is expected with cloud tops to 40,000ft (ELTs -55C). Shear is a little meagre, 10-15kts, and so likely to lead to downbursts and cold pools, which in turn will lead to daughter cells developing nearby. Damaging gusts of up to 50-60mph will be possible associated with downbursts, and the magnitude of CAPE and mid-level lapse rates suggests large hail 3-4cm, locally 5cm, in diameter is possible.
During the evening, a shortwave will approach from France into southern England, and this may also aid in eroding the cap and allowing numerous thunderstorms to develop near convergence boundaries / topographic forcing / outflow boundaries. 700mb steering flow would suggest storm motion will be 10-15mph to the NW initially, turning increasingly to the WNW and 20-25mph as the evening progresses and the flow aloft backs and strengthens. Thunderstorms may grow upscale into a larger complex as they track westwards across Wales during the evening, and out across the southern Irish Sea / Celtic Sea while lightning activity will probably weaken as it moves into E / SE Ireland.
During the evening hours, a band or cluster of thunderstorms over northern France will begin to drift north across the English Channel, potentially affecting the Channel Islands for a time - it is unclear where these storms will survive the crossing, but the vast majority of model guidance is in agreement that they will decay fairly rapidly after leaving the coast, with lightning activity tending to hug the French coastline to the east. Nonetheless, a few elevated thunderstorms may be possible across S / SE England overnight, and perhaps at the end of the night close to the East Anglia coast.