| | |
| --- | --- |
| Convective Outlook: Thu 13 Aug 2020 | |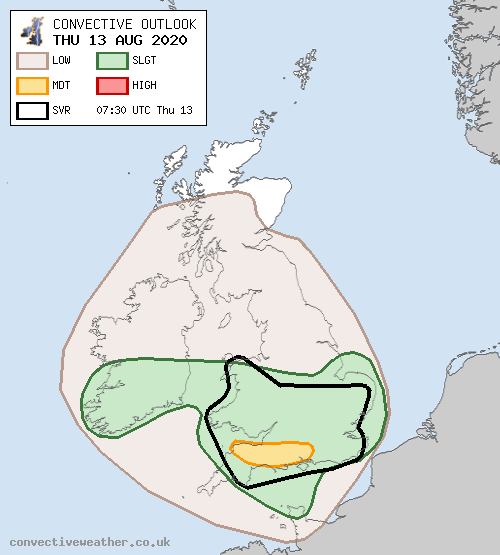 Convective Outlook
VALID 06:00 UTC Thu 13 Aug 2020 - 05:59 UTC Fri 14 Aug 2020
ISSUED 07:30 UTC Thu 13 Aug 2020
br> br>
ISSUED BY: Dan
Clusters of showery rain, some with embedded lightning, are likely to be drifting westwards across parts of Ireland, southwest England and south Wales on Thursday morning, forced by a shortwave / PV lobe which will clear the west coast of Ireland by early afternoon. This may leave rather extensive cloud in its wake, but assuming this thins and breaks to allow some surface heating, then increasing instability may allow scattered showers and a few thunderstorms to develop in its wake across southern Ireland, aided by low-level convergence in the slack surface pattern but also by a minor shortwave arriving from the east during the afternoon. These will likely weaken as they clear westwards during the evening hours. Hail 1.0-1.5cm in diameter may be possible from the strongest cells, but shear is rather weak. Other clusters may arrive from the Irish Sea during the overnight period.
Elsewhere, there may be a slight uptick in elevated shower/thunderstorm activity across parts of East Anglia and SE England first thing on Thursday morning as a minor shortwave swings northwestwards then westwards from the southern North Sea to the Midlands. Depending on cloud cover associated with this feature, diurnal heating could yield 1,000-1,500 J/kg CAPE across Wales, southern England and East Anglia, which in combination with low-level convergence zones due to the slack surface low will provide the focus for scattered thunderstorms developing, some with frequent lightning. The exact location of these convergence zones is handled differently amongst model guidance, and so pinpointing exactly where shower/thunderstorms may occur, with the zones also likely to move through the day, is difficult. A MDT has been issued where there is reasonable consensus for at least one convergence zone to become established.
Similar to Wednesday, weak shear suggests pulse-type storms are likely, with individual cells having a relatively short life but downbursts and outflow helping to spawn daughter cells nearby. PWAT around 40mm with storm motion of 15-20mph to the NW could result in prolonged downpours and local flash flooding. Overall, the severe threat is somewhat lower than previous days - the magnitude of CAPE may be supportive of some marginally severe hail, 2-3cm in diameter, and some strong wind gusts of 40-50mph. A SVR has been introduced, primarily for the flash flood threat and to a lesser extent for hail and wind, but overall severe conditions are not expected to be too widespread. Forecast profiles suggest temperatures around 28-30C will be required to develop surface-based convection, and given a weaker cap and smaller dewpoint depression cloud bases will likely be somewhat lower (around 4,000ft initially) compared with previous days.
Surface-based convection will gradually weaken towards late evening as nocturnal cooling of the boundary layer occurs, but some late-day thunderstorms could evolve from west London late evening and run westwards along the M4 corridor. Further scattered elevated showers/thunderstorms will be possible through the night as minor shortwaves arrive from the east, with a particular focus over East Anglia and extending into the Midlands. Extensive low cloud, mist and hill fog will likely develop at the surface, with showers raining through this from aloft.