| | |
| --- | --- |
| Convective Outlook: Fri 14 Aug 2020 | |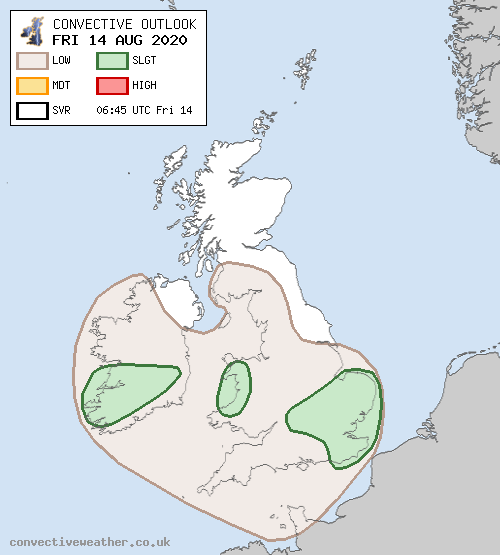 Convective Outlook
VALID 06:00 UTC Fri 14 Aug 2020 - 05:59 UTC Sat 15 Aug 2020
ISSUED 06:45 UTC Fri 14 Aug 2020
br> br>
ISSUED BY: Dan
Similar to Thursday, a shortwave sliding WSW-wards across East Anglia into the Midlands will provide the focus for an uptick in elevated shower/thunderstorm activity over these areas during Friday morning. Most model guidance suggests this activity will decay towards midday, probably leaving quite a bit of cloud in its wake. In either case, there will likely be extensive low cloud, mist and sea fog across much of central and southern Britain, and how quickly this clears will determine how much surface heating can occur.
Current thinking is cloud is most likely to break up across East Anglia and perhaps SE England, and diurnal heating will lead to the development of sea breeze convergence. Assuming this occurs, scattered slow-moving heavy showers and a few thunderstorms will be possible during the afternoon and evening hours. CAPE is notably lower than previous days and combined with weak shear will preclude most severe hazards - hail up to 1.5cm in diameter is possible, but the main threat is the risk of flash flooding, given PWAT still in the 35-40mm range. An isolated tornado is possible where low-level vorticity along convergence zones gets ingested. A few isolated heavy showers or weak thunderstorms may also develop in parts of S / SW Ireland and W / NW Wales. If more substantial cloud breaks develop across southern England then the risk may also increase here too, but confidence is too low to justify a SLGT at this stage.
Overnight, minor shortwaves drifting eastwards from the near Continent continue to bring the risk of elevated showers and a few sporadic lightning strikes almost anywhere across central and southern Britain across to southern Ireland, although overall CAPE is a lot lower than previous nights so lightning will probably not be as prolific or widespread.