| | |
| --- | --- |
| Convective Outlook: Sat 15 Aug 2020 | |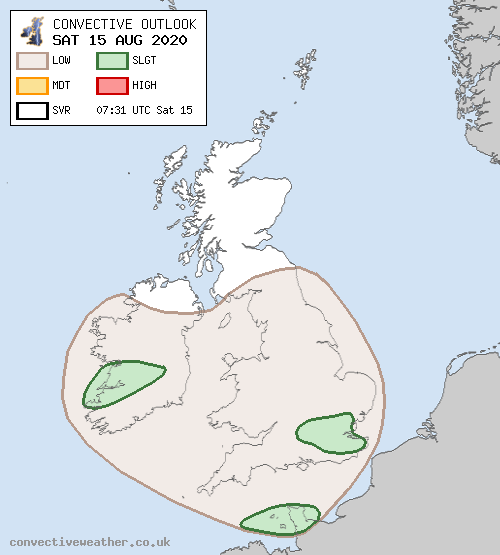 Convective Outlook
VALID 06:00 UTC Sat 15 Aug 2020 - 05:59 UTC Sun 16 Aug 2020
ISSUED 07:31 UTC Sat 15 Aug 2020
br> br>
ISSUED BY: Dan
Upper low over Biscay will slowly approach from the southwest, serving to cool the upper levels on Saturday. Residual high Theta-W plume straddles much of central/southern Britain across to Ireland, and provides the focus for sporadic elevated convection as minor impulses drift westwards in the easterly flow aloft. PVA tends to increase during Saturday night, and so this may be when elevated showers/weak thunderstorms become more widespread, albeit the focus shifted somewhat further north compared with earlier in the day. Instability overall is weaker than previous days, and so lightning will probably be rather isolated.
At the surface, extensive low cloud and mist is expected once again, although forecast profiles reveal the low-level warm nose that was present on Friday will gradually erode, in theory allowing greater mixing to occur and prospects for some breaks in the cloud to allow surface heating. This will be crucial for developing deep convection, primarily focussed along low-level convergence zones - one likely close to the M4 corridor through London and then northeast into East Anglia, and another along the south coast. Temperatures into the low 20s will be required to trigger deep convection (in conjunction with convergence zones / topography), leading to very tall but very skinny CAPE profiles. 300-600 J/kg CAPE may build, primarily over East Anglia / SE Eng / Cen S Eng where cloud breaks are most likely (especially around London) and this could aid a few heavy showers or weak thunderstorms during the afternoon or early evening. Slow storm motion (5-10mph) and PWAT 35-40mm suggests the risk of local flash flooding where showers/storms do occur. A funnel cloud or weak tornado may be possible given low cloud bases and low-level vorticity that may be ingested into an updraft - especially SE England.
A low-end SLGT has been introduced where sufficient cloud breaks / surface heating is most likely, with concerns about cloud cover elsewhere. A SLGT has also been included for the Channel Islands where some sporadic lightning may be possible towards the end of Saturday night as thunderstorms approach from France, but uncertainty as to how active they will be by arrival.