| | |
| --- | --- |
| Convective Outlook: Sun 16 Aug 2020 | |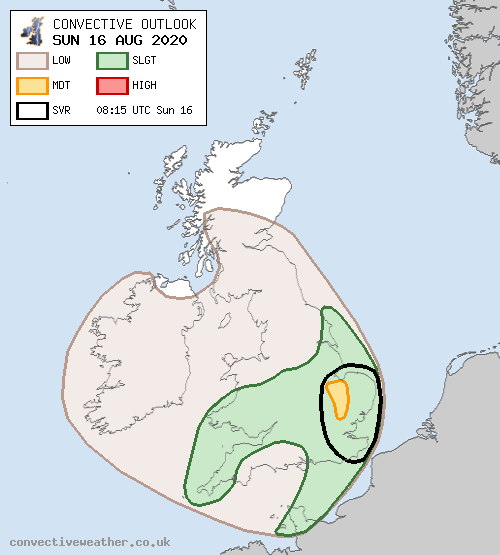 Convective Outlook
VALID 06:00 UTC Sun 16 Aug 2020 - 05:59 UTC Mon 17 Aug 2020
ISSUED 08:15 UTC Sun 16 Aug 2020
br> br>
ISSUED BY: Dan
As has been the case in recent days, a warm, moist low-level airmass and Theta-W plume covers much of England, Wales and Ireland on Sunday morning, although this will shift slowly northwards through the day as the upper low over Biscay approaches and introduces slightly lower Theta-W into southern Britain. That said, the southeasterly flow aloft will maintain advection of high Theta-W from the Low Countries into eastern Britain.
PVA and isentropic upglide will maintain some sporadic elevated convection across central Britain to Ireland on Sunday morning, although fairly saturated profiles, weak CAPE and marginal mid-level lapse rates suggests that lightning activity may be rather isolated. A cluster/band of elevated convection may drift north from northern France / Channel Islands on Sunday morning across to southern England, but even this may weaken as it crosses the English Channel. However, diurnal heating ahead of this feature and therefore increasing instability may yield 500-1,000 J/kg CAPE, and this could allow this trough to reinvigorate as it moves north across parts of SE England / M4 corridor, and then later into the Midlands and East Anglia.
Ahead of this trough, the slack surface pattern will enable low-level convergence zones to develop, and this could also provide the forcing mechanism for scattered showers and a few thunderstorms to develop by the afternoon, almost anywhere in a zone from SW England through S + SE Wales, the Midlands into East Anglia. In either case, any scattered thunderstorms will likely merge with the approaching trough from the south during the evening hours as a PVA lobe on the forward side of the upper trough encourages more widespread lift, and convection may then grow upscale into a much wider area of rain/thunderstorms. Lightning activity will eventually reduce during the night hours with this feature as it continues to move northwestwards across northern England, with showers/thunderstorms elsewhere generally decaying by late evening
The proximity to the upper low and stronger flow aloft will likely result in some slightly stronger shear compared with the week so far (15-25kts), and this may aid updraft/downdraft separation and sustain convection for longer, allowing some organisation. Consequently some marginally-severe hail (up to 2.0cm in diameter) and gusty winds is possible, although the main threat will be local flooding given the high PWAT once again (around 30-35mm in eastern England). That said, slightly stronger flow aloft will also result in slightly faster storm motion than previous days (around 10-20mph to the NW), and so showers/storms unlikely to be as slow moving as Friday/Saturday. A marginal SVR has been introduced for the threat of large hail and strong gusts of wind, alongside the flash flood risk - although this will be possible elsewhere outside of the SVR zone.
Additional surface-based thunderstorms over France may attempt to migrate northwards across the eastern English Channel towards SE England during the evening hours, but these will probably weaken on arrival (if not earlier) - but could clip parts of the Channel Islands. A few showers will likely develop in W / SW Ireland on Sunday afternoon / evening / night too, but lightning probably quite isolated.