| | |
| --- | --- |
| Convective Outlook: Tue 18 Aug 2020 | |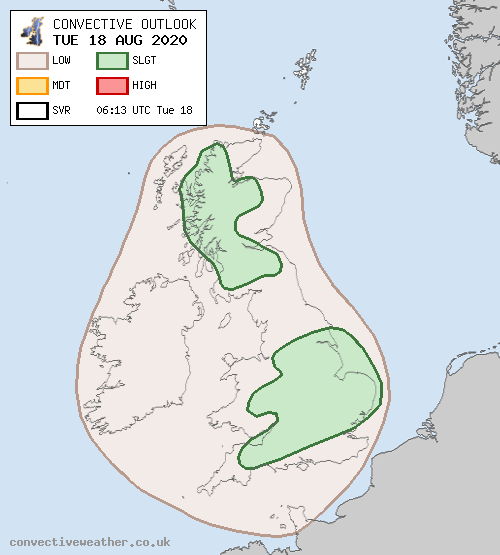 Convective Outlook
VALID 06:00 UTC Tue 18 Aug 2020 - 05:59 UTC Wed 19 Aug 2020
ISSUED 06:13 UTC Tue 18 Aug 2020
br> br>
ISSUED BY: Dan
An upper trough will continue to lift northwards across Scotland on Tuesday, the cold pool aloft atop moist low-level airmass (dewpoints in the mid-teens Celsius) yielding 300-700 J/kg CAPE across Scotland, and 200-500 J/kg CAPE across England, in response to diurnal heating. Scattered showers are likely to develop, primarily linked to orographic forcing in Scotland, and a couple of SW-NE convergence zones across England/Wales.
Deepest convection will likely be in Scotland where mid-level lapse rates are steepest, however increasing shear across southern Britain may aid cell longevity. Either way some sporadic lightning is possible in places, and locally some hail and wind gusts 30-35mph may be possible. A couple of funnel clouds may be possible, more especially in Scotland.
Showers will gradually decay through the evening hours, but frontal rain will spread into SW England, SW Wales and southern Ireland during the early hours of Wednesday - with a small risk of isolated lightning from embedded elevated convection.