| | |
| --- | --- |
| Convective Outlook: Thu 27 Aug 2020 | |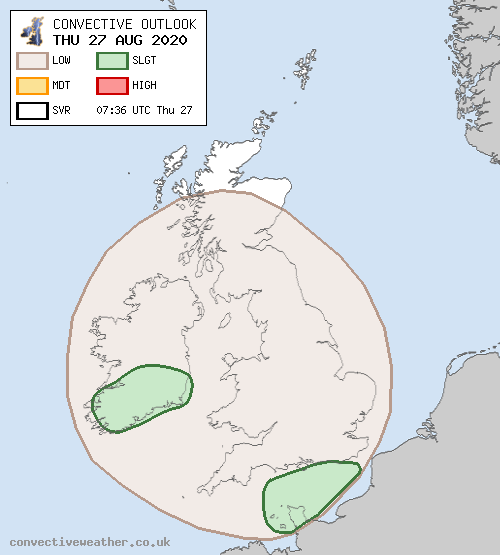 Convective Outlook
VALID 06:00 UTC Thu 27 Aug 2020 - 05:59 UTC Fri 28 Aug 2020
ISSUED 07:36 UTC Thu 27 Aug 2020
br> br>
ISSUED BY: Dan
An upper trough will slowly migrate eastwards across Britain and Ireland on Thursday, with heights falling aloft through the day as the mid-levels continue to cool. A rather messy pattern is expected, with a complex area of low pressure slowly drifting eastwards while gradually deepening, accompanied by an assortment of occlusions. One such feature will bring pulses of showery rain eastwards across southern Ireland into Wales and SW England, and there could be a slight uptick in some sporadic lightning activity over the open seas and perhaps S Wales / SW England for a time. Depending on how robust any embedded convection can be, strong shear and backed low-level winds suggests the risk of an isolated tornado across southern counties of England this afternoon / evening. Also monitoring parts of SE England into East Anglia during the evening hours where rainfall could intensify to bring a few isolated lightning strikes.
Otherwise, the main focus for some lightning will be over southern Ireland during the afternoon / early evening as cloud breaks allow surface heating to occur and deep convection to develop aided by low-level convergence. Here, enhanced vorticity along convergence zones may become ingested into the cloud base to bring the chance of a few funnel clouds or weak tornado. Some hail may also accompany the strongest cells.
Overnight, rain and showers will likely affect many areas, with particular focus over the English Channel for deeper convection where showers are likely to become increasingly numerous in a pattern more akin to autumn. Here there could be a few lightning strikes, more especially towards the end of the night, close to some adjacent coasts. A low-end SLGT has been issued to cater for this risk. The odd funnel cloud or waterspout may be possible almost anywhere close to southern and western coasts.