| | |
| --- | --- |
| Convective Outlook: Fri 11 Sep 2020 | |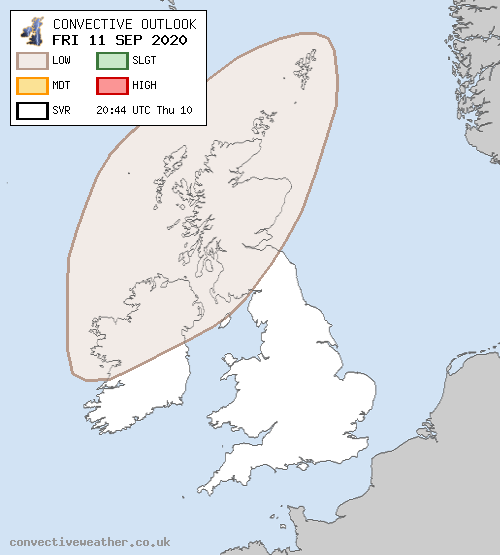 Convective Outlook
VALID 06:00 UTC Fri 11 Sep 2020 - 05:59 UTC Sat 12 Sep 2020
ISSUED 20:44 UTC Thu 10 Sep 2020
br> br>
ISSUED BY: Chris
A deep area of low pressure centred near Iceland will push a cold front southeastwards across Britain and Ireland on Friday, followed by colder air aloft that will produce heavy showers across Scotland and northern Ireland into the afternoon and overnight.
The cold front will move through Ireland and western Scotland on Friday morning in a highly sheared environment, helping to generate some convection within the frontal boundary. 50-60kts of deep layer shear will be present within that zone, along with low level forcing could help to generate a few lightning strikes, mainly in across northwestern Ireland and far western Scotland between 6z-12z on Friday.
Behind the clearance of the cold front, upper level temperatures will cool, and with sea temperatures of 13-14C this will help to generate surface-500mb lapse rates in the region of 38-40C and ELTs nearing -20C (CAPE values reaching near 300J/kg). Showers should have sufficient depth to produce a few isolated lightning strikes, particularly near coastal regions of far northwestern Scotland overnight into the early hours of Saturday.