| | |
| --- | --- |
| Convective Outlook: Sun 09 May 2021 | |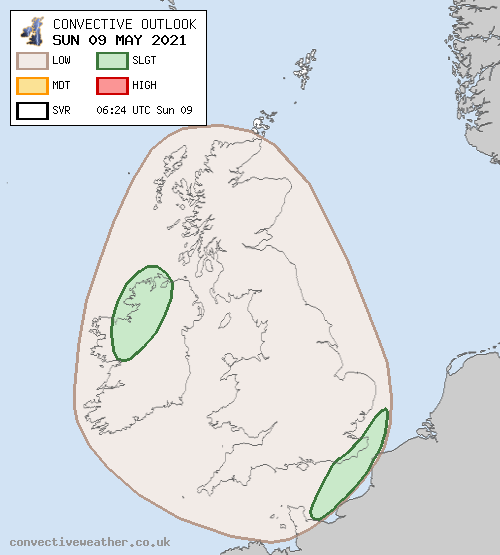 Convective Outlook
VALID 06:00 UTC Sun 09 May 2021 - 05:59 UTC Mon 10 May 2021
ISSUED 06:24 UTC Sun 09 May 2021
br> br>
ISSUED BY: Dan
The broad upper pattern on Sunday sees a longwave trough to the west of Europe, with a strong southwesterly flow on its forward side. This will encourage advection of a warm, moist airmass from southwest to central Europe with time. A surface low will remain just to the west of Ireland, while a quasi-stationary cold front will straddle central Britain before finally clearing eastwards to the North Sea on Sunday night. The broad LOW area is a result of a combination of different events through the day, outlined below...
... SUNDAY MORNING: SE ENGLAND / EAST ANGLIA ...
Scattered elevated thunderstorms are likely to be ongoing at the start of this forecast period, and expected to increase in coverage within the high Theta-W plume covering NE France into BeNeLux and the southern North Sea. There is potential for elevated convection to develop far enough west to bring the risk of some sporadic lightning to parts of East Anglia and SE England in the morning, before the risk shifts across the North Sea.
... SUNDAY AFTERNOON: IRELAND / NORTHERN IRELAND / SCOTLAND ...
A rather messy evolution with various occlusions bringing areas of cloud and showery outbreaks of rain northwards at times. However, if sufficient cloud breaks / insolation can aid diurnal heating, then several hundred J/kg CAPE (moreso NW Ireland) is possible. Convective overturning with time will likely aid the development of deeper convection, in an environment with 30-40kts 0-6km bulk shear. This will, in theory, be supportive of organised convection, with a couple of cells perhaps exhibiting supercellular characteristics. The main focus is primarily Ireland where conditions overall will be more favourable - deeper convection, backed low-level winds etc - whereas convection in Scotland will likely be a little shallower in height. As such, if an organised storm can develop it may pose the threat of hail 1.5-2.0cm in diameter - however, have refrained from introducing a SVR given low confidence on sufficient surface heating etc.
... SUNDAY AFTERNOON: EASTERN ENGLAND ...
Precipitation on the cold front is expected to weaken through the day, but if sufficient surface heating can occur then there may be scope for isolated surface-based deep convection to develop. The main area of interest is from Yorkshire down to Norfolk. If deep convection can develop, the strongly-sheared environment may encourage organisation - however, the strong flow aloft would also likely push any shower/storm offshore fairly quickly.
... SUNDAY EVENING: SE ENGLAND / EAST ANGLIA ...
As the flow aloft backs slightly during the afternoon/early evening, the Theta-W plume over France may bulge closer to SE England for a time. Approaching PVA as the upper trough becomes increasingly negatively-tilted over western Europe will result in forced ascent - with potential for both surface-based thunderstorms to develop over mainland France and also elevated showers/thunderstorms more generally over northern France towards evening. It is likely most lightning activity will remain close to France / BeNeLux and the eastern English Channel, however as is often the case in such situations there is a level of uncertainty and some sporadic lightning cannot be ruled out over SE England for a time during the evening hours - as such the SLGT may be expanded westwards if confidence increases.
... SUNDAY NIGHT: IRELAND / W + SW BRITAIN ...
Overnight, cool air aloft overspreading relatively warm SSTs will aid the development of numerous showers over Ireland and other western/southwestern parts of Britain - the odd isolated lightning strike may be possible with this activity.