| | |
| --- | --- |
| Convective Outlook: Mon 10 May 2021 | |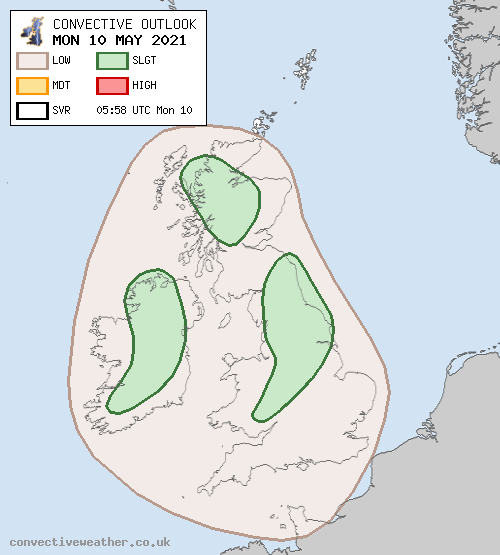 Convective Outlook
VALID 06:00 UTC Mon 10 May 2021 - 05:59 UTC Tue 11 May 2021
ISSUED 05:58 UTC Mon 10 May 2021
br> br>
ISSUED BY: Dan
Longwave trough will reside over western Europe on Monday, with cold air aloft overspreading the UK and Ireland. Strong SSW-ly flow aloft will be present over central/eastern Britain on the forward flank of the upper trough. Numerous showers will already be ongoing by Monday morning over many western parts of Britain and across Ireland, and these will become more widespread through the day in response to diurnal heating. A few weak thunderstorms are likely in parts of Ireland, although with weak shear under the upper trough axis these will tend to be rather pulse-type in nature - albeit aided by a minor shortwave lifting north through the day. One concern over Ireland is also fairly moist profiles which may also limit buoyancy of air parcels (and therefore lightning potential).
Across East Anglia and SE England, convection will generally be more limited in depth and so showers may be more isolated. Therefore, the best overlap of instability and modest shear (20-30kts) will be in a zone from the Midlands across N / NE England and here the strongest cells may exhibit some organisation, especially later in the afternoon and into the early evening as drying in the mid-levels also increases potential instability. The main threat will be local, marginally-severe wind gusts of 40-60mph, but some hail is also likely in places. At the moment, the most likely area of interest is from the Pennines eastwards between Northumberland and north Lincolnshire.
Finally, parts of central and NW Scotland may also prove another area with some sporadic lightning. Many showers/storms will weaken and fade overnight, with the focus mostly on SW England / S Wales / S Ireland where showers may increase later in the night.