| | |
| --- | --- |
| Convective Outlook: Tue 11 May 2021 | |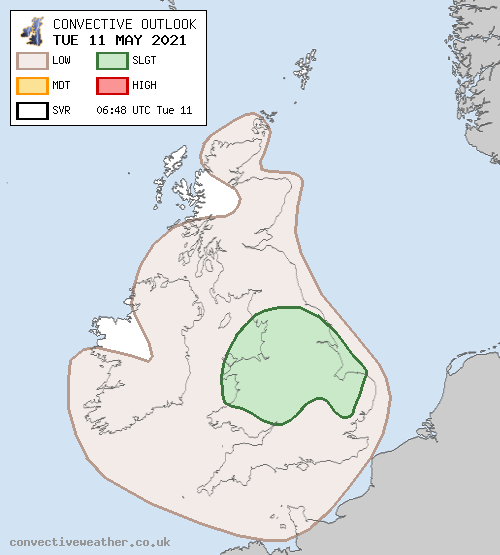 Convective Outlook
VALID 06:00 UTC Tue 11 May 2021 - 05:59 UTC Wed 12 May 2021
ISSUED 06:48 UTC Tue 11 May 2021
br> br>
ISSUED BY: Dan
Upper trough will sharpen and become increasingly negatively-tilted as it lifts northwards across England and Wales on Tuesday. The net result is increasing PVA/divergence on the forward flank of this feature, aiding broad lift/ascent. Scattered showers will already be present across parts of SW England and Wales initially, and diurnal heating inland will yield 300-600 J/kg CAPE with showers become more numerous with time through the day. Scattered thunderstorms are likely across parts of Wales, the Midlands and East Anglia, these migrating generally northwestwards into northern England. Upscale growth seems likely into an area of showery rain over northern England and southern Scotland by the evening hours, and this may result in a gradual decline in lightning activity as a result (aside from isolated pockets such as on the western flank into SW Scotland etc).
Particular attention is given to Yorks/Lincs/Derbys/Notts/Leics/Norfolk which, combined with 30-40kts bulk shear, will likely see increasing low-level shear as surface winds back and strengthen through the afternoon. This could encourage updrafts to rotate, presenting the risk of an isolated tornado and/or wind gusts to 40-50mph. Portions of the West Midlands / east Wales could also experience marginally-severe wind gusts. Hail is likely in many of the showers/thunderstorms. A separate round of shower/thunderstorm activity may intensify over the north Midlands into northern England through the evening hours, so it is possible some locations may experience two waves of activity before a gradual weakening towards midnight.
Further areas of showery rain associated with a wrap-around occlusion will also move into SW England, although this could tend to fragment and turn more convective through the afternoon/evening hours (especially south Wales / West Country / SW Midlands). Within this area a couple funnel clouds/weak tornado may be possible. Showery rain will also affect southern Ireland, but parts of Munster could see some cloud breaks and the chance for heavy showers / isolated lightning in the afternoon hours. Also monitoring a corridor from northern Leinster to western Ulster but forecast profiles are very dry with weak shear so it seems likely any convection may struggle to be sustained for any length of time. Deeper convection and isolated lightning strikes will also be possible in the afternoon/early evening over Caithness/Sutherland. Elevated convection may feed into Aberdeenshire and environs overnight, with perhaps a few isolated lightning strikes - but low confidence.