| | |
| --- | --- |
| Convective Outlook: Sun 18 Jul 2021 | |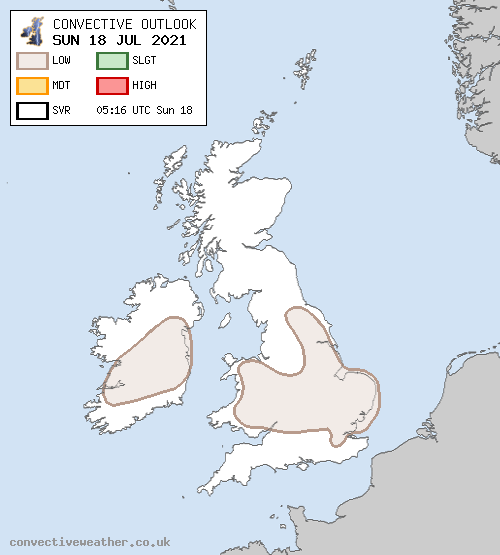 Convective Outlook
VALID 06:00 UTC Sun 18 Jul 2021 - 05:59 UTC Mon 19 Jul 2021
ISSUED 05:16 UTC Sun 18 Jul 2021
br> br>
ISSUED BY: Dan
Upper ridging dominates across the UK/Ireland through Sunday, with a gradual weakening through this forecast period. Strong insolation and resultant diurnal heating will result in deep mixing of the low-levels, and while forecast profiles suggest potential for several hundred J/kg SBCAPE it seems likely that what convective cloud can develop will either be restricted in height by warm noses aloft, or struggle to maintain itself due to the dry mid/upper troposphere. Consequently, despite perhaps numerous attempts at fair-weather convective cloud attempting to gain some height, it may fail to produce many showers (at least for any length of time per individual cell).
The main focus where convection may be a little more sustained is along marked convergence zones, such as in central Ireland and through Yorkshire/Lincolnshire, or aided by orographic forcing such as in Wales. The overall lightning risk is very low, but perhaps particular attention is given to central Ireland and the S + W Midlands during the evening hours where some subtle forcing aloft approaching from the west may phase with pre-existing convergence zones to briefly (for a couple of hours) enable convection to grow tall enough to produce an isolated heavy shower / thunderstorm. If this does occur, some local surface water issues could result.
During the early hours of Monday, there could be an uptick in elevated convection across East Anglia - although the risk of lightning is considered rather low.