| | |
| --- | --- |
| Convective Outlook: Sat 24 Jul 2021 | |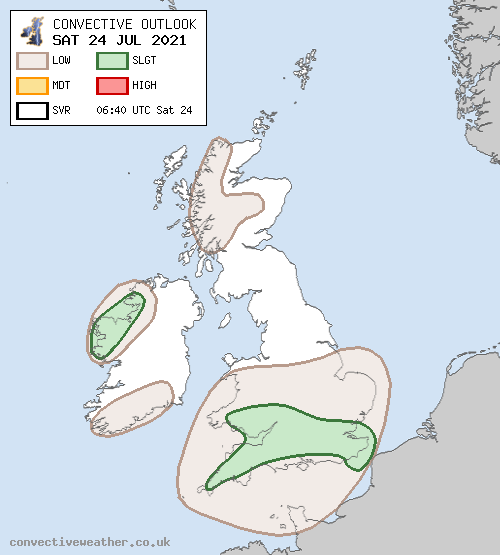 Convective Outlook
VALID 06:00 UTC Sat 24 Jul 2021 - 05:59 UTC Sun 25 Jul 2021
ISSUED 06:40 UTC Sat 24 Jul 2021
br> br>
ISSUED BY: Dan
An upper low will be located over the western English Channel on Saturday, slowly meandering eastwards with time. A tongue of high Theta-W initially stretches from NE France across SE / Cen S England and wraps back round the low over the western English Channel, but through the day this will tend to slowly pivot northwards across SE England into East Anglia, with less northward movement on the western end. This zone provides the main focus for thunderstorm activity. A PVA lobe will rotate around the upper low, with an uptick in lightning activity across SE England on Saturday morning. However, as the forcing aloft overruns and clears to the west, this initial pulse is likely to weaken into a generic area of showery rain over East Anglia, although the odd embedded active cell cannot be ruled out.
As this lifts north, increasing cloud breaks and surface heating of moist low-levels (dewpoints 16-17C) over southern England may yield 500-900 J/kg CAPE. Forecast profiles reveal a warm nose at 850-900mb that may inhibit convection and so ideally sufficient surface heating and low-level convergence, enhanced by sea breeze, will be required to generate deep convection. Exactly how far north the morning rain can shift, and the degree of cloud breaks that follows, will heavily influence how far inland the sea breeze can push. This therefore makes it challenging highlighting specific areas at greatest risk, other than one or possibly two corridors of activity between the south coast and south Midlands/SE Wales. Nonetheless, scattered showers and thunderstorms will be possible during the afternoon and evening hours, generally drifting westwards with time. With the steering flow being near-parallel to the convergence zone(s), training of cells could lead to local surface water flooding. Mid-level flow is strongest early-mid afternoon and then tends to weaken somewhat towards evening, resulting in a reduction of speed shear - but still sufficient perhaps for some organisation/multicells. Some marginally-severe hail may be possible from the strongest cells, and the development of cold pools may create clusters of daughter cells nearby that tend to propagate away from the original parent cells.
While showers and storms will tend to weaken later in the evening, PVA arriving from the east could enable further pulses of showery rain to develop in some southern and eastern parts of England which, given some residual instability, could still produce a few sporadic lightning strikes in places (for example, eastern East Anglia) - but confidence on coverage and placement is rather low.