| | |
| --- | --- |
| Convective Outlook: Sun 25 Jul 2021 | |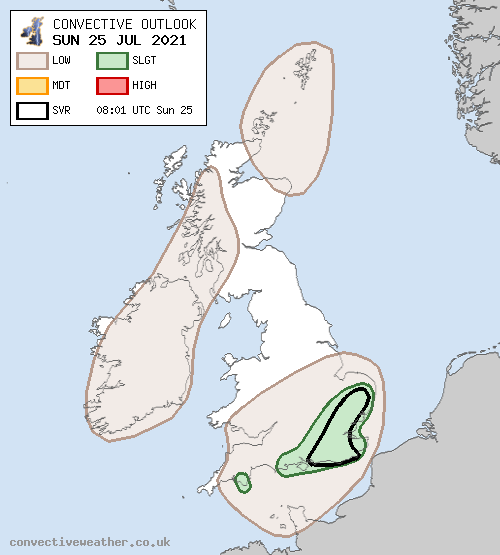 Convective Outlook
VALID 06:00 UTC Sun 25 Jul 2021 - 05:59 UTC Mon 26 Jul 2021
ISSUED 08:01 UTC Sun 25 Jul 2021
br> br>
ISSUED BY: Dan
An upper low will linger close to SE Britain on Sunday, the associated cool mid-levels aiding to increase instability, especially in conjunction with surface heating. Fairly extensive low cloud across much of England this morning, with some showery outbreaks of rain in the east and southeast. With time, this should gradually thin and break to allow some brightness to develop. Depending on how much insolation and surface heating can occur, there is scope for 500-900 J/kg CAPE to develop across East Anglia, S / SE England and perhaps the S Midlands. The 00z Nottingham ascent suggests a couple of warm noses that may inhibit deep convection initially, but these should be overcome in East Anglia and SE England given fairly high dewpoints (16-18C) and potential for low 20s Celsius air temperatures in the best of any brightness. Onshore breezes are expected to develop over East Anglia, which combined with the synoptic north/northeasterly flow will create an area of enhanced convergence generally along a NE-SW line between Norwich and London, and perhaps beyond towards Brighton. The exact location of this CZ varies depending on the degree of surface heating. Either way, this will provide the main focus for a line of heavy showers and thunderstorms to develop from around 12-13z onwards.
Given very moist profiles with PWAT in the low 30s mm, slow storm motion due to weak mid-level flow (a tendency to drift slowly to the west) and the potential for back-building/training over similar areas, there is a significant risk of localised flash flooding - especially where showers/storms affect urban areas. As such, a SVR has been introduced given the potential for 50-100mm to occur very locally. If any cells can punch closer to 30,000ft then they may be able to utilise some stronger flow aloft to aid with venting and cell longevity, and could potentially become quite electrically active for a time. Some hail is possible, although given the overall weak shear and moist profile this is unlikely to be severe.
Across Cen S / SE England, the evolution is less clear given showery outbreaks of rain here this morning and this may inhibit sufficient surface heating. Assuming sea breeze convergence can develop, then these areas will also be at risk of heavy showers and a few thunderstorms during the afternoon and evening. Again the slow storm motion could result in some localised flooding. In all areas, given fairly low cloud bases, vorticity stretching along convergence zones could allow a couple of funnel clouds or a weak tornado to occur.
A few isolated heavy showers / weak thunderstorms will also be possible across parts of Ireland and western Scotland, but most areas here will remain dry. Showers/storms will only slowly fade through the evening hours - indeed new cells could keep developing in southern England until quite late in the evening - and as was the case on Saturday night some elevated thunderstorms could develop over the southern North Sea, although this perhaps less likely to push into East Anglia given an unfavourable/weaker steering flow.