| | |
| --- | --- |
| Convective Outlook: Mon 09 Aug 2021 | |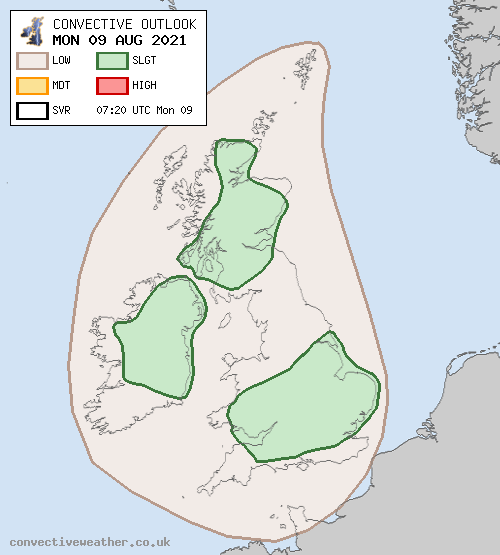 Convective Outlook
VALID 06:00 UTC Mon 09 Aug 2021 - 05:59 UTC Tue 10 Aug 2021
ISSUED 07:20 UTC Mon 09 Aug 2021
br> br>
ISSUED BY: Chris
A large trough of low pressure will extend southwards across much of Britain and Ireland and will slowly rotate eastwards through Monday. This combined with modest instability will lead to widespread showers and some thunderstorms, particularly during the afternoon and early evening.
Around 500 J/kg of CAPE will develop through the afternoon across much of Britain and Ireland, but particularly across the three SLGT areas. ELTs and therefore colder cloud tops will be marginally better in the Irish and Scottish SLGT areas, which are deeper into the upper trough, however mid-level lapse rates will be slightly steeper in the southern SLGT area. Shear is quite weak across Britain and Ireland, so convection is likely to be messy during the day, however with some weak surface convergence and orography that should be enough to give initial lift to parcels to help kick off convection, especially during the afternoon.
The main hazards will be localised flooding, particularly with slow-moving thunderstorms across parts of Scotland where 25-50mm of rain could fall in a short space of time.