| | |
| --- | --- |
| Convective Outlook: Sat 08 Jan 2022 | |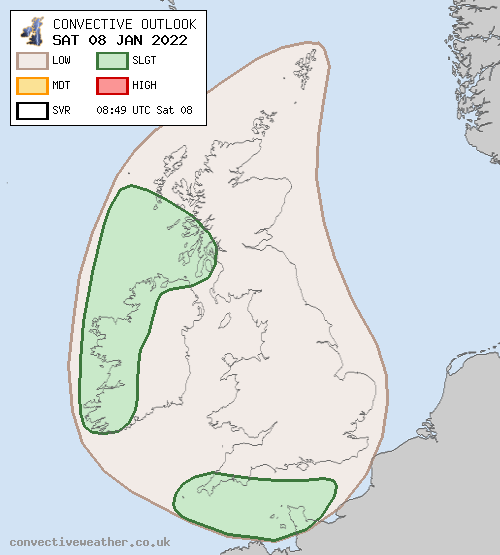 Convective Outlook
VALID 06:00 UTC Sat 08 Jan 2022 - 05:59 UTC Sun 09 Jan 2022
ISSUED 08:49 UTC Sat 08 Jan 2022
br> br>
ISSUED BY: Dan
A sharpening upper trough will dig southwards on Saturday, in the vicinity of an Atlantic frontal system. Broad ascent on the forward side of the upper trough will result in falling surface pressure, and the formation of a surface low along the cold front which will aid the backing of low-level winds. Given an environment with strong wind shear, this will likely encourage line segments to develop, migrating eastwards with time. Profiles appear very moist with limited CAPE, and so while lightning may not be that significant there may still be the potential for strong gusts of wind and isolated tornadoes with any well-developed line segments. There appears to be better multi-model agreement on intensification across SW England and then through the English Channel / Channel Islands within a more unstable environment, and here the risk of hail and lightning may be slightly higher - hence the low-end SLGT issued. Gusts of 50-70mph may be possible in this corridor.
Behind the cold front, a substantial cold pool aloft will overspread the UK/Ireland, and in conjunction with relatively warm SSTs will yield a few hundred J/kg CAPE. Numerous showers will develop over open seas and advect inland on the west/northwesterly steering winds. As a result, the risk of lightning will be greatest in western areas where showers are most intense/widespread, with a few odd isolated strikes possible in places - although attempting to pinpoint specific areas given the high ratio of shower coverage vs resultant lightning will be difficult. A better overlap of CAPE and shear is likely over western Ireland, where some very strong gusts of wind will also be possible.
Later in the night a more organised area/cluster of heavy showers are expected to approach western Scotland and Northern Ireland as an upper low advances from the Atlantic. Strong low-level shear in the vicinity could also encourage updraught rotation. A low-end SLGT has also been introduced here for the risk of some sporadic lightning.