| | |
| --- | --- |
| Convective Outlook: Wed 20 May 2020 | |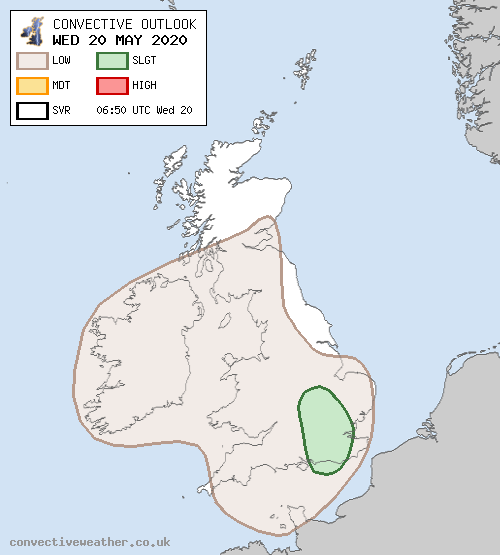 Convective Outlook
VALID 06:00 UTC Wed 20 May 2020 - 05:59 UTC Thu 21 May 2020
ISSUED 06:50 UTC Wed 20 May 2020
br> br>
ISSUED BY: Dan
Upper ridging largely dominates across the British Isles through Wednesday, and despite some SBCAPE developing over eastern England in response to diurnal heating, profiles are heavily subsided and capped - hence at best some shallow convective cloud is likely.
Late in the day, showery bursts of rain will spread into W / SW Ireland associated with a cold front. This will continue to track east across Ireland and W Scotland during the evening and night hours, for a time being engaged by a sharpening shortwave approaching from the Atlantic. This may, for a time, increase the potential for some embedded elevated convection, however as the shortwave overruns the cold front the focus will shift to a new corridor of elevated convection that is likely to develop in the vicinity of the Irish Sea / W Britain during the early hours of Thursday - ahead of the cold front. Given rather weak instability, the risk of lightning is considered relatively low but a few isolated lightning strikes may be possible, hence the inclusion of a LOW threat level.
Elsewhere, as the shortwave continues to advance eastwards, by the end of the night it may begin to engage with a plume of high Theta-W advecting from France into Cen S / SE England. Gradual cooling and moistening of the mid-levels, combined with forced ascent, may result in scattered elevated showers develop in the vicinity of the English Channel / S Midlands / S + SE England. As such, a few sporadic lightning strikes may occur late in the night, but
the risk is greater beyond this forecast period
(i.e. after 06z Thursday). The extent to how much moistening occurs at the 700-850mb level will be crucial in determining how much elevated convection can occur, with disparities between model guidance at present. Nonetheless, a (low confidence) SLGT has been issued to cater for any thunderstorms that develop late in the night, since these could produce fairly frequent lightning given the rapidly increasing instability as the upper trough approaches - initially with very little precipitation reaching the ground until the boundary layer gradually moistens.